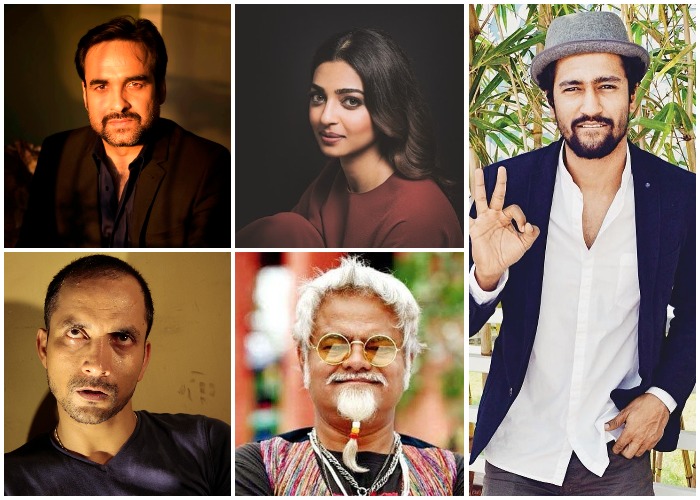 Bollywood has a plethora of actors and among the crowd, we often fail to notice the ones who are actually brimming with talent but don't get the deserved limelight. Admit it or not, Bollywood functions on the brand of an actor's stardom. However, there are a number of 'artists' who are yet to get their due in the industry, despite of delivering remarkable performances in every single project they've signed. While reading this, you'll get struck with many names who were always the underdogs in the industry dominated by Khans and Kapoors.
Let's talk about these artists who can outshine the major A-listers of Bollywood.
Pankaj Tripathi
We've seen this actor umpteen times in Bollywood movies. But he came to limelight only after Gangs of Wasseypur film series, eight years after making the cut in the industry. Ever since then, there's no single movie he has done where he didn't steal the limelight from the lead actors of the film. In Newton, Rajkummar Rao was splendid as usual, but Pankaj Tripathi's performance kept us glued to the screen till the end. This year, he is making his debut in Tamil cinema with Rajinikanth-starrer Kaala.
Radhika Apte
If you're fond of short films then you must know about Radhika Apte's awe-inspiring performance in Ahalya as 'Ahalya'. Cinephiles were taken aback by Apte's natural ability to act. Then came Phobia, and we had no doubts that this lady is born to act. Despite being a phenomenal actress, Radhika believes in signing films which offers a impactful role to her. For her, quality is above quantity.
Vicky Kaushal
Vicky Kaushal is one such young actor of Bollywood, who has walked the prestigious red carpet at the Cannes International Festival. He worked as an Assistant Director in Gangs of Wasseypur, which requires no description of how good it was. Then he bagged Neeraj Ghaywan's Masaan which was milestone movie for the young actor. He heaped praises from all quarters for his portrayal of Deepak in the film.
Sanjay Mishra
There's nothing that this man cannot do. We're so used to seeing this actor recreate umpteen roles on the silverscreen that we fail to notice that how good a natural actor he is. Be it comic roles or a character that requires immense depth of soul, Sanjay Mishra nails them all. In Masaan, Mishra grabbed the eyeballs as a distressed debt-ridden father while tickling the bones of masses in Golmaal Again. In short, he's a shapeshifter!
Deepak Dobriyal
Being a cinephile, I never miss a movie that has this name in its cast. Be it Tanu Weds Manu or Kaalakaandi, Deepak Dobriyal's mere presence makes a 3-hour film worth a shot. Many of you know him as Pappi from Tanu Weds Manu, but he has taken up a plethora of diverse roles in movies like Omkara, Gulal and many more. There are no doubts that his performance in Tanu Weds Manu is the best till date, but the other characters he recreated on silverscreen are worth a million praises. All in all, Deepak Dobriyal carries acting in his blood. It's something he breathes and it comes as naturally to him as air comes to us.