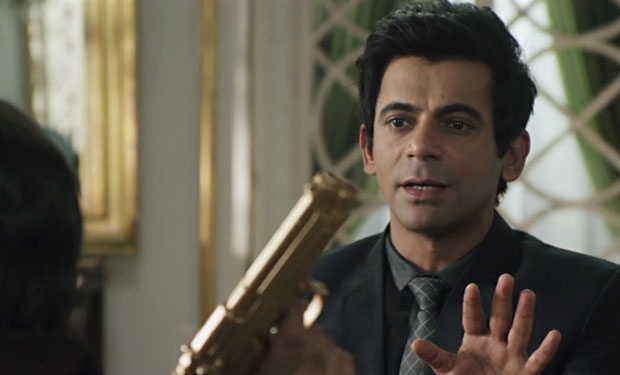 Top comedian Sunil Grover's upcoming comedy film 'Coffee With D', that created quite a stir after the release of its trailer, appears to have run into troubled waters with the writer-director Vishal Mishra and producer Vinod Ramani approaching the police with a complaint of having received threat calls at the behest of Chhota Shakeel, a key aide of underworld don Dawood Ibrahim.
"I have received 2-3 threat calls from a man who appears to be a close aide of some Chhota Shakeel. He asked me to remove some comedy scenes filmed on the Don and threatened to kill me and my family," producer Ramani told media persons outside the police station at Parliament Street after registering their complaint.
The producer has also handed over to the police two voice clippings with recordings of the alleged threats issued to him during two separate phone calls. The recordings purportedly have a man asking the producer to either remove scenes that show Dawood in bad light from the film or dub the dialogues so that they do not sound offensive to the underworld don.
The film has earlier been in talks for the character of the Don, which is played by Zakir Hussain, being loosely based on Dawood Ibrahim.
The trailer and a song of the upcoming flick have managed to create a stir as the content of the film is quite unusual for the comedy genre.
The film shall have Sunil essay the role of a well-known journalist who is out there chasing an underworld Don D for his interview.
While the trailer generated curiosity amongst the audiences, the song 'Nation Wants To Know' added to the build up for the movie.
Also featuring Anjana Sukhani, Dipannita Sharma, Rajesh Sharma and Pankaj Tripathi in pivotal roles, the film is set to hit the theatres on January 6.