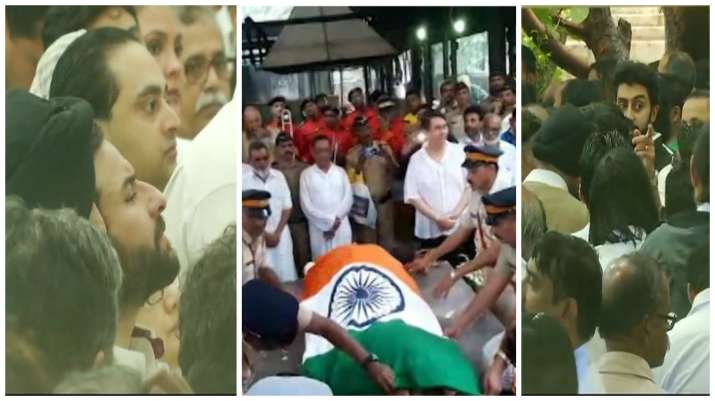 In a huge loss to Bollywood and entire nation, veteran actor Shashi Kapoor breathed his last at the age of 79 at Kokilaben Hospital, Mumbai on December 4. The charming actor who was not only known for his stellar acting skills but also for his good looks and great cinematic vision left his fans in shock. Soon after the news broke out, condolence messages and tributes started pouring in on Twitter. People from film fraternity rushed to his residence and hospital to have glimpse of the versatile actor. His last rites was held at Santacruz Cemetery in Mumbai and the entire film fraternity came together to bid final adieu to the legendary romantic actor of the 60s and the 70s. His mortal remains was draped in tricolor and Mumbai Police paid him state honour with 21 rounds of gun salute.
Last rites ceremony of veteran actor #ShashiKapoor performed at Santacruz crematorium. #MumbaiPolice pays moving tribute to Shashi Kapoor @MumbaiPolice pic.twitter.com/aLtbsEHCvB

— Uttar Pradesh News (@UttarPradeshENG) December 5, 2017
#Mumbai: Ranbir and Rajiv Kapoor attend the last rites ceremony of veteran actor #ShashiKapoor at Santacruz crematorium. pic.twitter.com/UQ69dPHUAR

— ANI (@ANI) December 5, 2017
#Mumbai: Actors Saif Ali Khan & Abhishek Bachchan attend the last rites ceremony of veteran actor #ShashiKapoor at Santacruz crematorium. pic.twitter.com/xcJcEPOVuk

— ANI (@ANI) December 5, 2017
PHOTOS: Teary-eyed Kareena, Saif, Aishwarya, Kajol rush to Shashi Kapoor's residence
Earlier, Amitabh Bachchan, Abhishek Bachchan, Naseeruddin Shah, Ratna Pathak Shah, Sanjay Dutt visited Shashi Kapoor's residence and were part of his funeral. Bollywood actor Rishi Kapoor also rushed to Mumbai from Delhi after he got the news of the sudden demise of his uncle. He was in the national capital shooting for the movie, Rajma Chawal. While Naseeruddin Shah with his wife Ratna Pathak Shah and Sanjay Dutt were spotted at Shashi Kapoor's house. Amitabh, Abhishek along with Shah Rukh Khan, Ranbir Kapoor and Saif Ali Khan were at the cemetery for the legendary actor's last rites. Here are the pictures: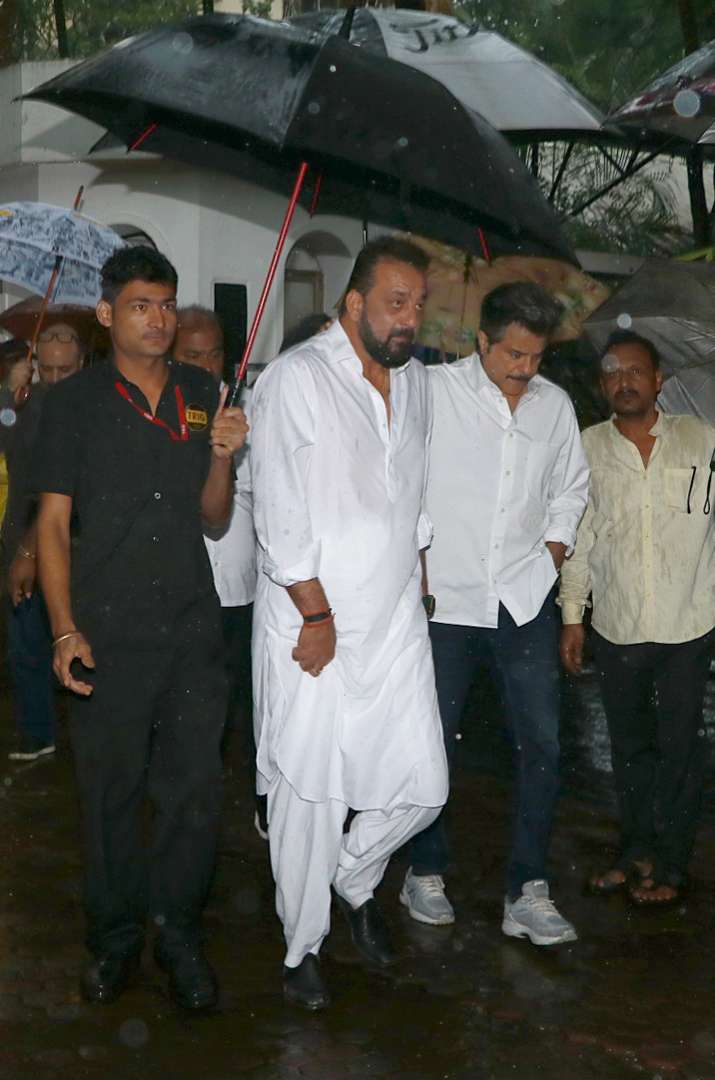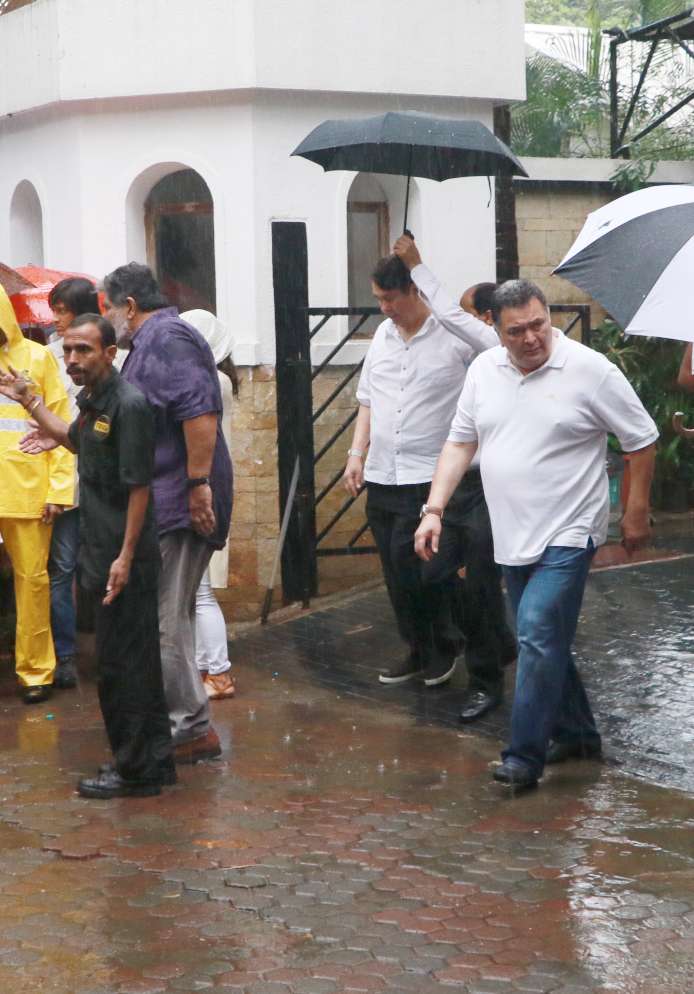 Also Read:Shashi Kapoor funeral: Amitabh Bachchan, SRK, Sanjay Dutt, Ranbir Kapoor attend, see pics
Bollywood actor Ranbir Kapoor accompanied his brother-in-law Saif Ali Khan to cemetery.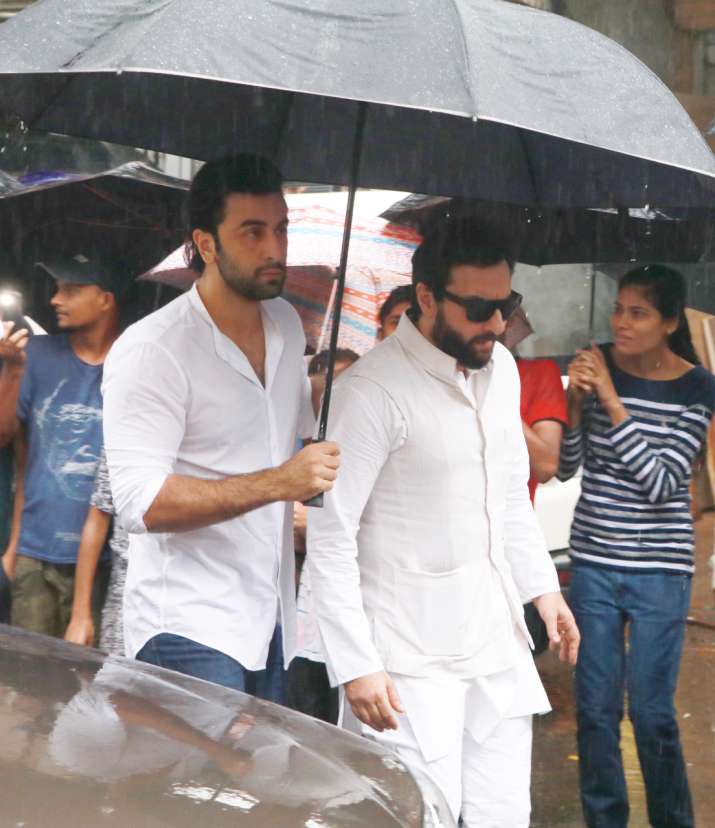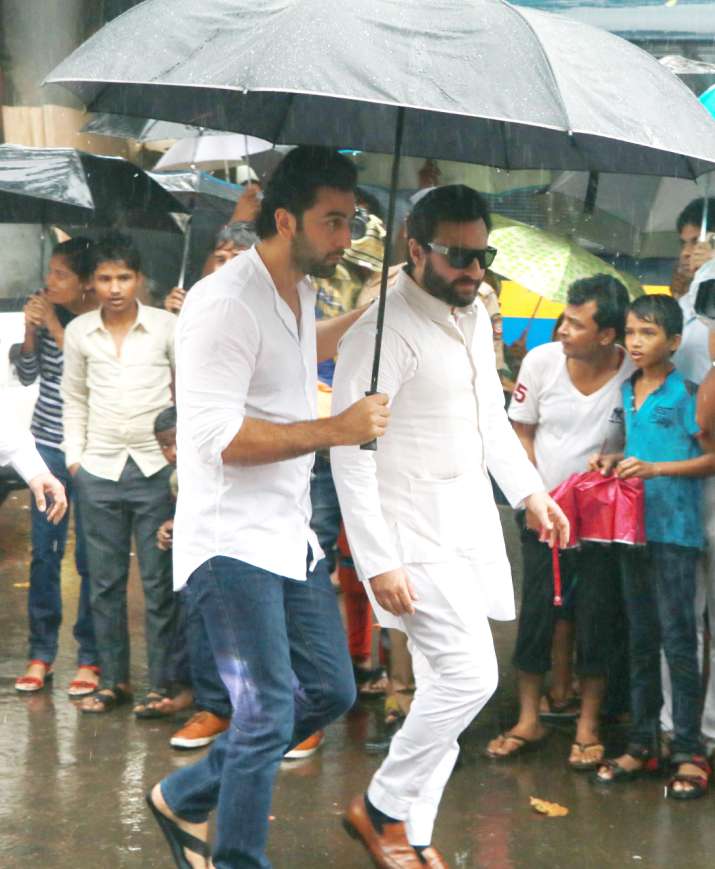 Shah Rukh Khan also came to attend Shashi Kapoor's funeral.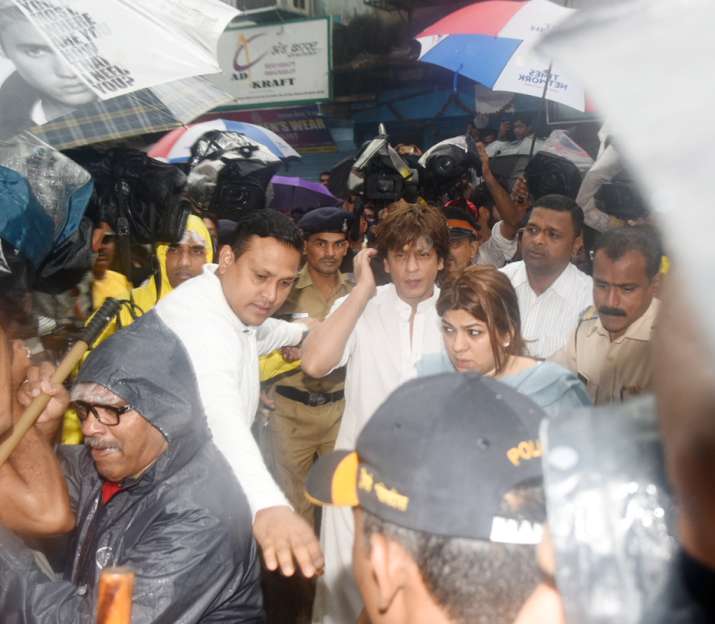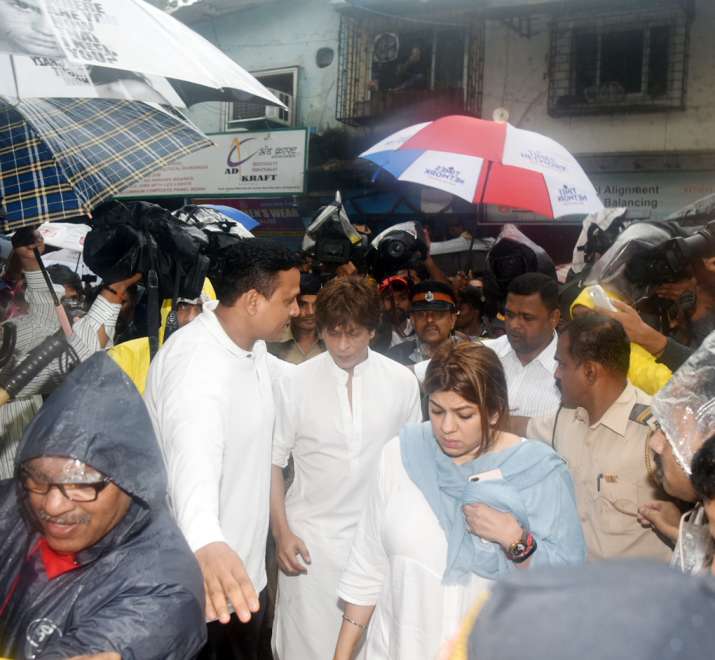 Amitabh Bachchan who has worked with Shashi Kapoor in many movies including blockbuster Deewar, paid his last respect to the iconic actor. He was accompanied by his son Abhishek Bachchan.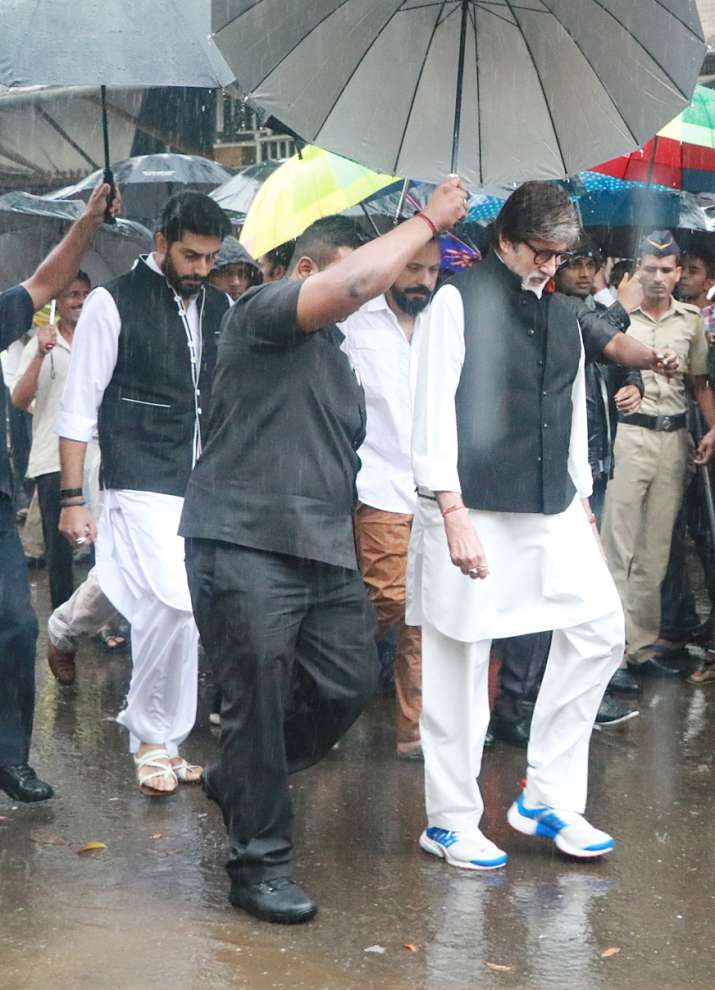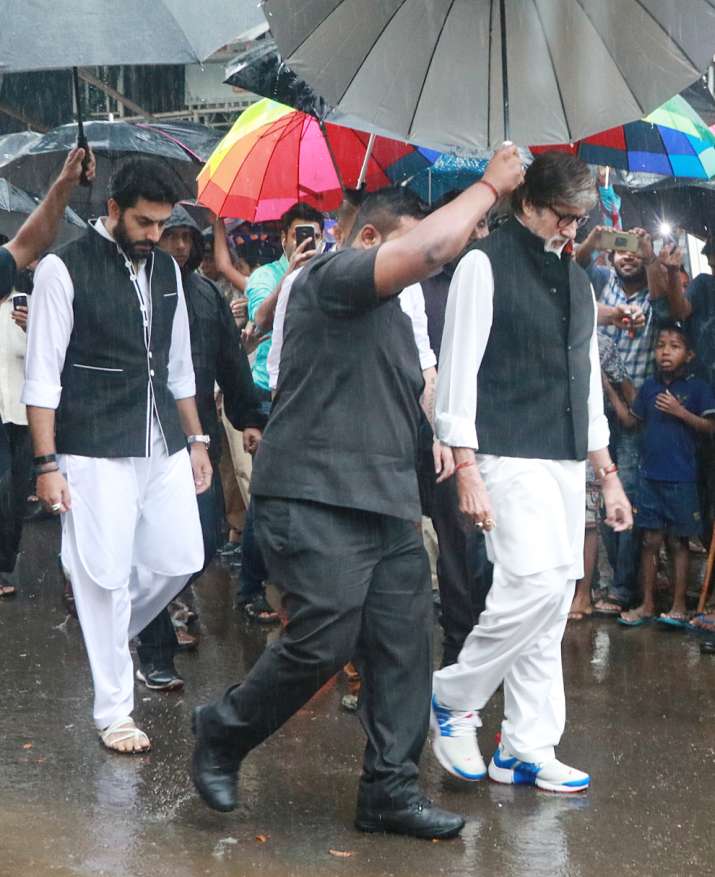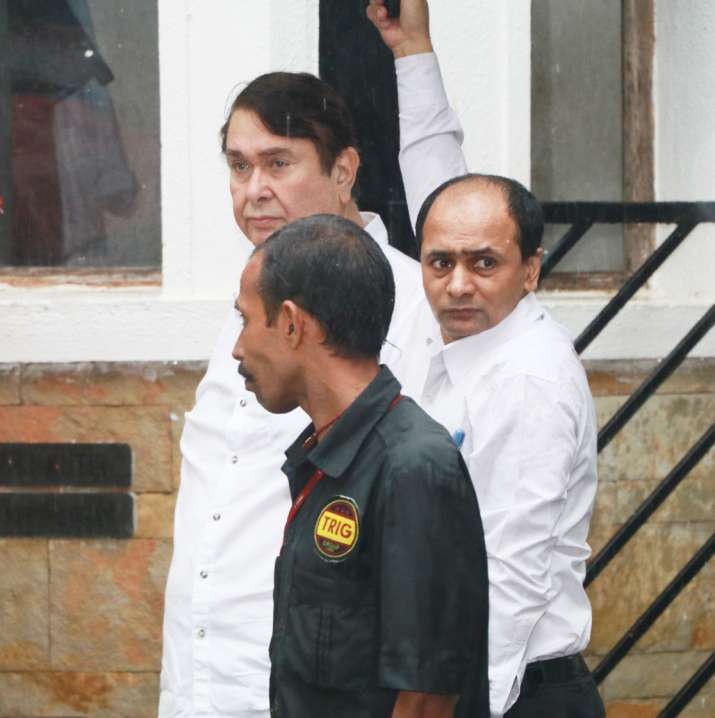 Bollywood couple, Naseeruddin Shah and his wife Ratna Pathak Shah also visited Shashi Kapoor's house early morning.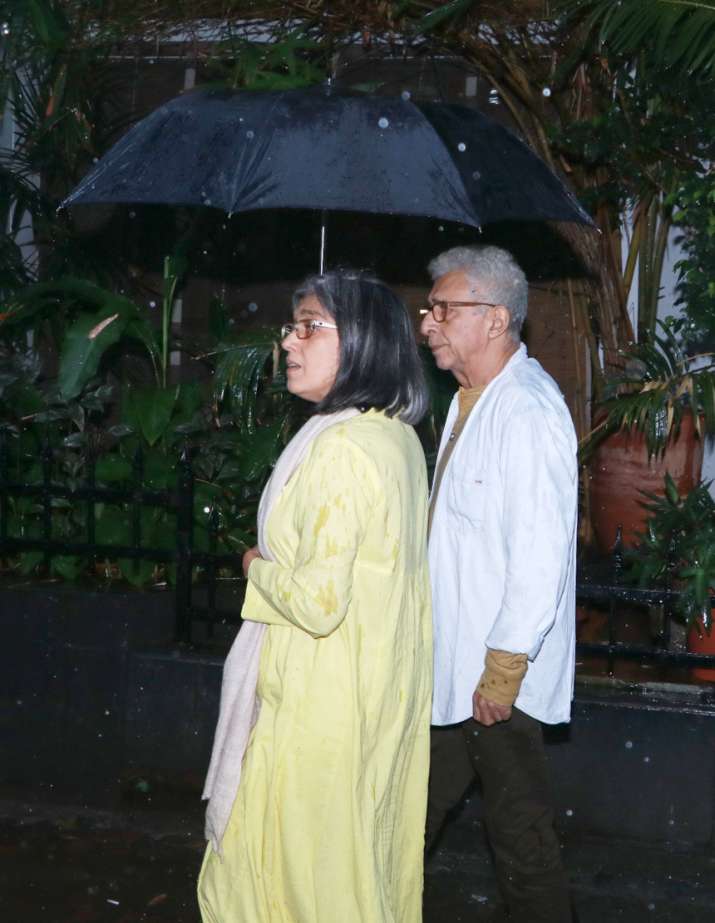 When Shashi Kapoor refused National Award
Shashi Kapoor entered in Bollywood as a child artist in the late 1940s and appeared in Sangram (1950) and Dana Paani (1953). Some of his best performances were in 1948 film Aag and 1951 Awaara. He also worked as an assistant director in movie, post Box 999 which was also the Bollywood debut of Sunil Dutt. Balbir Raj Kapoor, which was Shashi Kapoor's real name debuted with Dharmputra and went on to give blockbusters such as Deewar, Satyam Shivam Sundaram, Kabhi Kabhie among others.
Read Also : Shashi Kapoor's filmography, Shashi Kapoor's songs, Shashi Kapoor's top 10 movies and Shashi Kapoor's top 10 dialogues