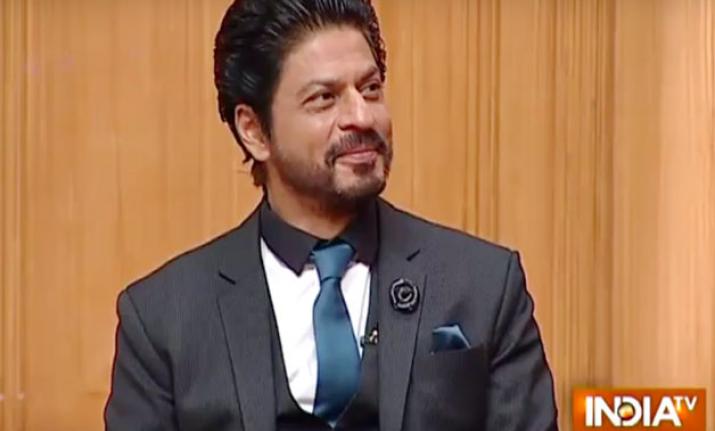 In a throwback interview given to India TV's Chairman and Editor Rajat Sharma in popular show Aap Ki Adalat, Shah Rukh Khan revealed many interesting details about his life. From speaking about how Fan became the biggest learning point in his career to his views about PM Modi, SRK was at his candid best.
Here is a quick look into what all he said:
 
1. I never take money for acting in movies
Talking to Mr. Rajat Sharma, Shah Rukh revealed that he never takes money for acting in films.  
"I only charge fees for endorsements, for events and live shows. I only tell producers to pay me whatever they wish, if the films do well (at the box office). I don't take acting in films as a business. The greatest thing I can do is to act in films," Shah Rukh said.
"My biggest hope in my life is that more and more people watch my films and be happy, and one day I will make a film in India... I'm a big nationalist in such matters... which people of the world can watch and say that this film was made in India. So I want to be a part of that," he added.
2. Gaurav Channa Vs Aryan Khanna
When asked which role was difficult to play, Shah Rukh said that playing Aryan Khanna was mentally tough while essaying Gaurav was physically challenging.
"I am playing 25 year-old at 50 years of age. The makeup used to take took 3-4 hours; I lost 7-8 kgs to look lean and there was a lot of hustle bustle in this character. I learned the Delhi accent and sometimes I used to tie my neck for speaking in Gaurav's tone."
"Aryan's character is not like me. He is serious, responsible, proper and someone who doesn't make mistakes. I am not like this at all so it was really tough for me to play this," he added.
3. From Hockey field to Bollywood
Shah Rukh Khan is ruling million hearts with his acting and persona but this is not something that he wanted to do initially. SRK revealed that he wanted to become a sportsperson and represent the country.
"I wanted to represent my country in sports and play for Team India - in hockey, cricket or football. I was good at field hockey so I was looking to make career in that. But unfortunately I got my back severely injured after which I was not able to bend and play. I was disappointed to see my dream crashing; then my parents asked to me take part in the play happening in LSR. From there on TV happened, I got role in Fauji, and then went to Mumbai for films and now after 25 years I am still here. I never thought of becoming a film star."
4. Most memorable moment from 'Fan'
SRK worked hard for Fan to make both the characters look genuine. When asked about his favourite scene from the movie, SRK said:
"As an actor the most memorable moment is the double role scene where the film star meets his fan. It was very difficult. For around eight-nine days I worked for 20 hours to complete this 2 minutes 30-second scene. I like it very much because everything is there, I have done fine acting and shooting is also very good"
"This movie has taught me not to be like Shah Rukh Khan and do other types of acting. It is the biggest learning point for me from this movie," he added.
5. No bigger patriot than me
Shah Rukh Khan, whose comment on religious intolerance in India sparked a huge controversy, says it's not good to question his nationality as he feels there is "no patriot greater than him".
"Sometimes I feel very sad, I even feel like crying, that I should be made to say that I belong to this country, I am a patriot. I will tell all young people to be tolerant, be happy, work hard and take this nation forward".
"I want to say for the last time, I will not repeat it again, that there is no patriot greater than me in this country, he added.
Shah Rukh, in an event in November last year, has said, "Nothing worse than religious intolerance and that it would take India to the Dark Ages".
6. We must support PM Modi
Shah Rukh's remarks were considered by many to be against BJP and Prime Minister Narendra Modi, however, he clarified in the Rajat Sharma show that he also supports the central government.
 
"I would like to state here very clearly, when we chose a leader of our country, whoever may be, as great as Mr Modi, all we have to do is to support him. Our nation has chosen him with a majority, so we have to support our leader and take the country forward and not be negative," he said.
7. I don't deserve the love I receive
King Khan boasts a massive fan following today. People from across the nation as well as from different corners of the world are smitten by his charm. But SRK believes that he doesn't' deserves the love and respect that he has received till yet.
"Today when I work, I just want that all those people who watch my film feel happy because I honestly feel that I don't deserve what I have got in life. Thus, in order to achieve that deserving position, I will keep on working for my entire life. So, that one day I feel that I have done a good job and I deserve the love you people have been showering on me."
Watch Video: Shah Rukh Khan in Aap Ki Adalat 2016 (Full Episode)
For all latest news, keep checking our Facebook page