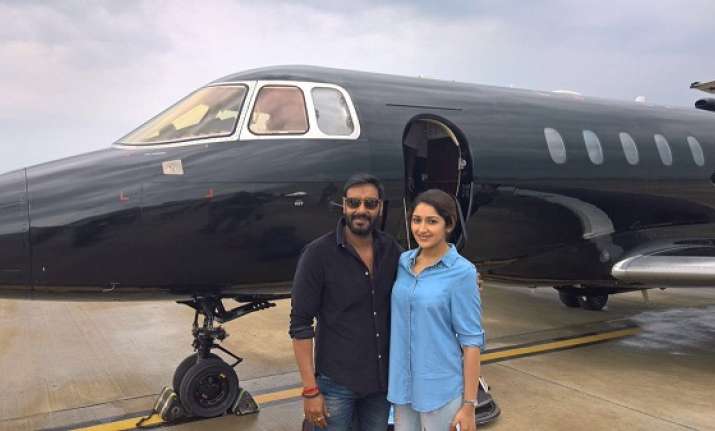 Newcomer Sayyeshaa Saigal, who made her big Bollywood debut with 'Shivaay', is all praises for her co-star Ajay Devgn.
The young actress lauded Devgn for his kindness and said that the actor doesn't have an air of being a superstar.
Sayyeshaa further admitted that working with Ajay Devgn in 'Shivaay' was a great learning experience for her.
Speaking about what she leartn from the 'Gangaajal' actor, Sayyeshaa said it was his spontaneity.
The actress stated that Ajay didn't use to rehearse for his scenes. Instead, he used to tell her to speak the dialogues as naturally as possible and advised her not to overact in any case.
" He always used to tell me throw dialogues as if you would do at home", Sayyeshaa added.
Sayyeshaa, who is being praised for her performance in the movie, also voice her opinion about the mush hyped 'Shivaay' vs 'Ae Dil Hai Mushkil' clash and said that bothe movies are good and will have a great run at the box office.
Miss Saigal, who is the grandniece of veteran actors Dilip Kumar and Saira Banu, said she took tips from them about how to prepare before going on the set.
"They told me that how they used to prepare the dialogues before going to the set. They used to make notes putting right conjunctions between the lines. Saira ji suggested me to learn Odissi dance," she said.
Talking about her next project, Sayyeshhaa stated that she has finalised a script and will make the announcement soon. The actress also dismissed the reports of being roped in Salman Khan or Sushant Singh Rajput's 's next project.
(With IANS Inputs)