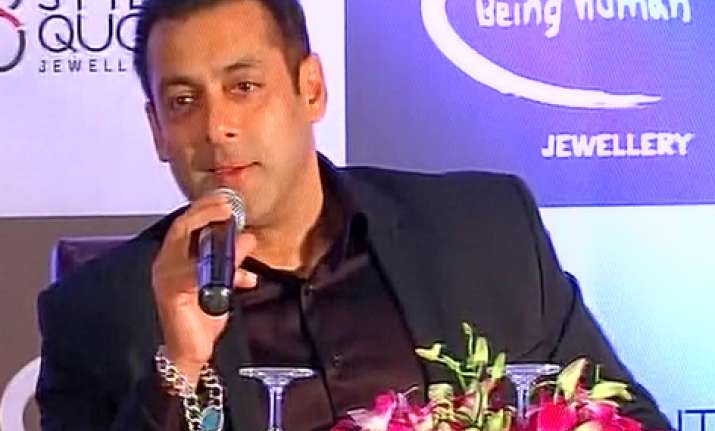 Diving straight into the debate on whether or not Pakistani artistes should be allowed to work in India, Bollywood actor Salman Khan has openly come out in their support, saying artists and terrorists need to be differentiated.
Heaping praise on the Indian Army's successful operation targeting terror camps across the Line of Control, Salman said artists are not terrorists and cannot be painted with the same brush.
"Terrorists and artists are different. Do you think there is no difference between an actor and a terrorist?" he said at an inaugural event on Friday in New Delhi. The event was to launch the jewellery range of his brand 'Being Human'
Salman's comments come a day after the Indian Army announced that it had successfully conducted a surgical strike in Pakistan occupied Kashmir. India's retaliation followed the ghastly Uri attacks on September 18 that left 19 soldiers dead.
Following the attack, there has been growing clamour for a ban on Pakistani actors and artistes in India. Pakistani actors like Fawad Khan, Mahira Khan and Atif Aslam have been at the receiving end for their involvement in Indian projects.
The Raj Thackeray-led Maharashtra Navnirman Sena (MNS) called for a complete ban on Pakistani actors asking them to leave India soon. MNS even gave the artistes a 48-hour ultimatum to leave the country or face the consequences.
However, Salman supported targeting terrorists but said treating Pakistani actors similarly was wrong.
"Actors (from Pakistan) come here with a proper visa granted by government. They have a proper work permit," he said justifying his support.
Appreciating the operation by the Indian Army, Salman said that the surgical strikes against terrorists was the right thing to do.
"Terrorists the na? Proper action tha (They were terrorists. It was the right move)," he said.
Salman siding with Pakistani artistes, however, has received mixed reactions from the people. While some users on Twitter said that the last thing India needs is a peace preacher like Salman, some even sided with him.
Here are some responses on the micro-blogging website:
Thats very true!
Salman Khan is not the visa provider it's the govt.#NoVisaNoPakArtists https://t.co/YiDssdsSK6

— Hossain (@Hasib_Race3) September 30, 2016
Dear Salman Khan,
You have a big house and heart.. why dont u keep all paki artists at ur home, feed them and pay them from ur own pocket?

— Alok Shinde (@AlokSShinde) September 30, 2016
SALMAN KHAN KA PAKISTANI KALAKARO KA SUPPORT DIL KO DUKHANE WALA HAI

— Ashok Ojaswi (@ashoksamrat2nd) September 30, 2016
Salman Khan if #PakArtists come with a valid visa., even David headley came with a valid visa!

— Pranay Sawant (@mi_Pranay) September 30, 2016
Salman Khan is absolutely bang on. They come here with proper documents.
It's Government's call who will be permitted or not.

— Hossain (@Hasib_Race3) September 30, 2016