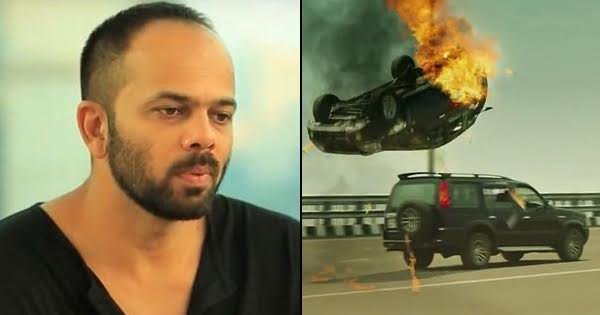 Director Rohit Shetty's name conjures up the image of expensive cars blowing up mid-air. However, there will be no such stunts in Golmaal 4, revealed the filmmaker. He said he has tried to stay away from his signature style in Golmaal Again. The 43-year-old filmmaker said he was tired of the media and reviewers' for bashing his films for "just having many car sequences". 
"I'm not blowing up cars this time in. I'm on detox in 'Golmaal Again'. It's a little unfair that you do so much hard work to make a 2.5 hour film and all they talk about is how I just blow cars. 
"They make it look like the moment they sat to watch the film till the time they left the theatres, it was just about that. Pick any film of mine, there hasn't been a car sequence that has surpassed two minutes, maximum five," Shetty told reporters on the sets of the film in Ramoji Film City. 
The filmmaker, who is directing the fourth film in the "Golmaal" series, is once again banking on the hit formula of fun and celebration. 
"Consciously, we've worked hard and we know there will be a lot of expectations. This film is bigger and better. We hope audiences like it. You have to make sure that you don't go overboard. 
"Also, don't take the audience for granted. Don't think that it will work because it is 'Golmaal'. There's a lot of humour but the story is simple. It doesn't need extraordinary characters, it needs the simplicity." The director said he has extensively used computer- generated imagery (CGI) in "Golmaal 4" to make it a children- friendly movie. 
"We have tried to go along the lines of Disney in termsof visuals. There is maximum use of CGI than in any of my films. We tried to give it a comic book feel. Just like 'Harry Potter' or 'Krrish' for children." 
Shetty, known for his larger-than-life potboilers, said he was comfortable in his zone as a director and never felt the need to break out of it. "I have always made big films. In fact, I'll feel odd if I make smaller ones. I only make those films I feel I can pull 

off. I have to be comfortable with the project first. 
"If I try to be someone else, it will not work. I'm happy doing what I do. I feel it's important people are happy while making a film. Otherwise, we can't entertain people onscreen," he said. 
(With PTI Inputs)
For more entertainment updates, follow our Facebook page