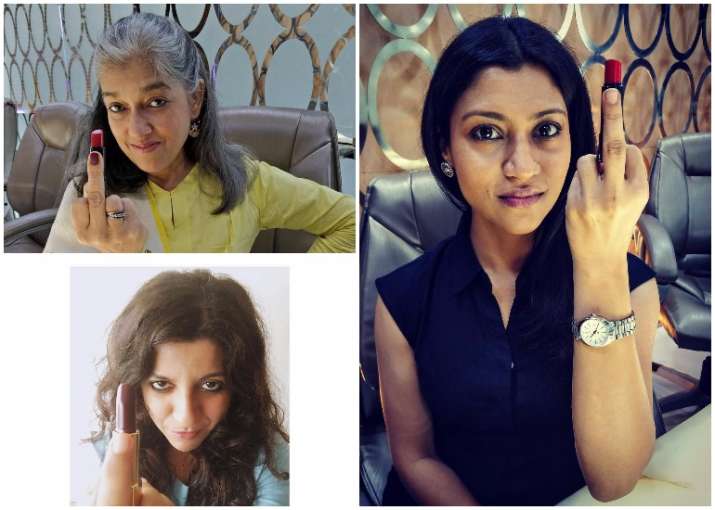 The Konkana Sen-starrer Lipstick Under My Burkha already courted a lot of controversy even before the trailer was released. Be it for its seemingly obnoxious sexual explicitness or for being too women-oriented. The Alankrita Shrivastava-directorial courted its share of controversies right from the mention of this project. But the makers of the film took every stone thrown at them to their own favour. They've emerged even stronger and bolder than before. The star cast has united with a pledge to shut every voice that aims to hold them down. Just a few days before its release in India, the filmmaker and actors of the film have kicked-start a campaign against patriarchy called 'The Lipstick Rebellion'. It is trending on Instagram by the hashtag #TheLipstickRebellion. 
Popular filmmaker Zoya Akhter also showed her support to the Lipstick Rebellion by posting a selfie. 
Actress Konkana Sen Sharma, Aahana Kumra and Plabita Borthakur have started promotions with a movement to get the women of the country to stand with each other to fight the patriarchy and preconceived notions against women. They want each and every woman using the social media platform to join the movement by posting selfie with a lipstick posed like a middle finger. 
Lipstick Under My Burkha Trailer: The unabashed movie takes a dig at society's prejudice about a woman and her morality
​Ekta Kapoor posted a picture with a lipstick posing as a middle finger on her Instagram account. 
The production house of the movie, Balaji Motion Pictures posted a video on their Instagram with a caption: 
"As women, we've always been Fighting the Do's and Don't's that the world throws at us. It's our time to strike the Lipstick Pose (The pose with your Lipstick between your fingers, like in the poster) and tell the world the "Don't" that you've shattered and emerged out of!"
Many women as well men took part in The Lipstick Rebellion on Instagram. Here are glimpses: 
Lipstick Under My Burkha, starring Konkona Sen Sharma, Ratna Pathak Shah, Aahana Kumra, Plabita Borthakur and Vikrant Massey, has already created a great buzz among the audience. The film will be released on July 21.
For more Entertainment stories click here