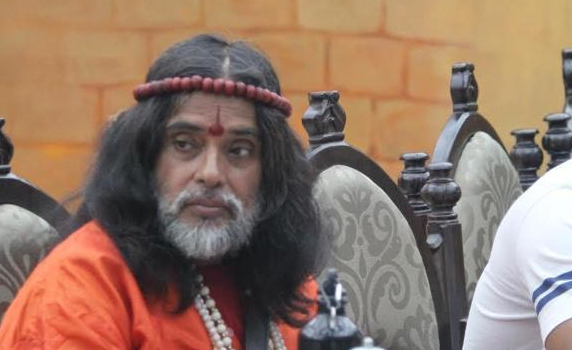 Swami Omji Maharaj is now a known face now, thanks to his participation in the tenth season of reality TV show 'Bigg Boss'. The self-proclaimed godman, whose real name is Vinodanand Jha, earlier made it to the headlines after an old video of him assaulting a woman on a news show surfaced. But looks like Swami Omji has a more of a controversial past than anyone knows.
The sanyaasi, who told Salman Khan at the premiere of the show that the superstar would get married in 2017, has been slapped with cases under the Arms Act, TADA. The godman is an alleged arms hoarder who has been served non-bailable warrants by the court.
As many as seven cases have been lodged against Omji under TADA. Investigation by police officials of Delhi's Defence Colony had found huge cache of arms and ammunitions under Omji's possession. He is reported to be a regular offender of robbery, hurt and burglary.
Not only this, the raid found obscene photos of women from Omji's house. He allegedly used these pictures to extort money from women. He has falsely filed complaints against his neighbours and relatives.
Swami Omji is also alleged to have stolen 11 bicycles from his younger brother Pramodh Jha's shop. This case dates back to November 2008, and Pramodh has alleged Omji and his three accomplices stole 11 bicycles, expensive spare parts, sale deed of the house and other important documents in Delhi. Pramodh said that his son saw Omji entering the shop and the police charged him for trespassing and theft.  
The warrant in this case was issued to Swamiji, two days before 'Bigg Boss' premiered.
Apart from his brother, his sisters too have complained against him at the Lodhi Colony police station in New Delhi. However, during hearing on October 14, Swamiji told court that he has no means to hire a lawyer and would need a counsel from the legal aid.
Well, with such a controversial past we wonder what viewers of the show will now think about him