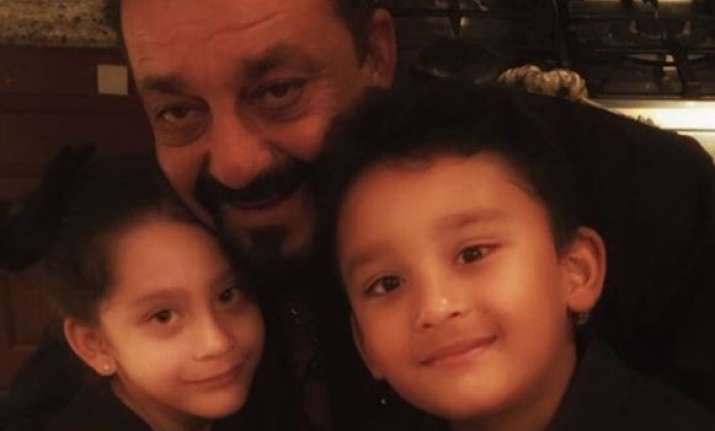 Bollywood actor Sanjay Dutt who has been entertaining his fans since past 37 years led a controversial life. His journey is no less than that of a reel Bollywood hero. The actor has faced some harsh consequences because of ''bad company''. Getting caught in arms and drugs case and then imprisonment was worst phase of his life. The actor in a recent interview said that he doesn't want his son Shahraan to be like him.
At the India Today Mind Rocks Youth Summit on Saturday, Sanjay spoke uninhibitedly about his journey and struggles. When asked how does he compare himself with his legendary father when it comes to fatherhood, Sanjay, a dad of three - a son named Shahraan and two daughters Trishala and Iqra - said: "My father raised us as normal children. I was sent to a boarding school... I went through the grind. And I am the same way with my children. "I try to teach them the values of life, give them 'sanskaar', and teach them (that) respect for elders is very important even if they are your servants... And that you've got to value life. I only pray my son is not like me. Because what my dad went through, I don't want to go through that."
The father-son duo Sunil and Sanjay had together featured for the last time on screen in "Munna Bhai M.B.B.S.".At one point during his time in jail, Sanjay had wondered why was he in prison despite being Sunil Dutt's son. As for his mother, Sanjay, 58, said his mother never saw any wrong in him. "All mothers are the same - they can't see anything wrong in their son... Whatever happens. If someone complained that 'Sanju has done this', she couldn't believe it. She used to get angry with them only," he said, fondly recounting his younger days.
Dressed casually in a pair of denims teamed with a black t-shirt and sporting a well-groomed beard, Sanjay spoke candidly to a crowd of school-goers that he always thought from his heart. "But using head is also important. Don't think from your heart, also use your brains sometimes," he said, offering more pearls of wisdom to the crowd.
"Always listen to your parents and never keep any company that's bad for you. Be safe. You go with the law of the land, and (I) promise, nothing will happen," said Sanjay, who spoke about how his conviction in the Arms Act was based on a piece of paper in which he purportedly confessed possessing a weapon. "They said that I was in possession of a weapon, but they never found the weapon."
Opening up on his tryst with drugs, the "Khalnayak" star said: "Well, I got onto drugs in college. It used to be like if you're not into it, you're not in the scene. So, I started it, but I got so hooked on to it that it took me about 10 years to get out... But I was lucky that I had the means and the provisions to get out of it."I saw life differently without drugs and I want to tell the young guys that please stay high on your life, on your family, or your work... There's no substance which can make you high. I promise, it's my experience."
Sanjay is making a comeback with revenge drama Bhoomi directed by Mary Kom fame Omung Kumar. Based on the relationship of father and daughter, the movie also features Aditi Rao Hydari, Shekhar Suman and Sharad Kelkar in prominent roles. The movie is slated to hit theatres on September 22.
(With IANS inputs)