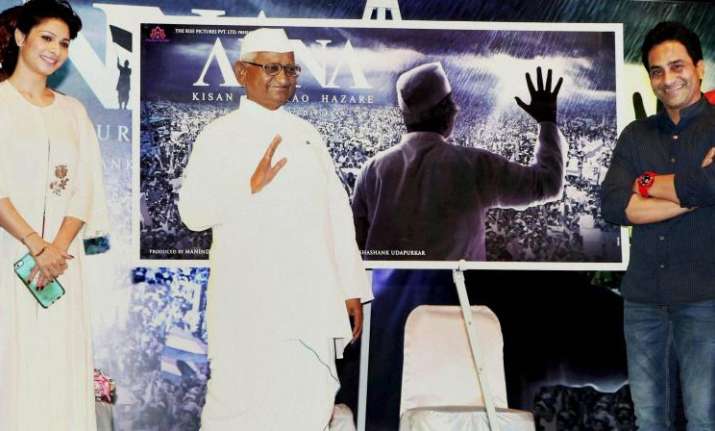 It's the season of biopic going on in Bollywood these days. From sonam Kapoor's 'Neerja' to Aishwarya Rai Bachchan's 'Sarabjit', we have seen several biopics this year.
While Sushant Singh Rajput's 'M.S. Dhoni: The Untold Story' is just two weeks ahead of release, the B-town makes way for another biopic.
We are talking about the much awaited biopic on veteran Gandhian and social crusader Anna Hazare.
Titled as 'Anna: Kisan Baburao Hazare', the movie will release on October 14 this year.
Apparently, the teaser of the movie will be releases tomorrow.
Marathi actor Shashank Udapurkar will be seen playing the role of Anna Hazare. Interestingly, Shashank has also made his directorial debut with this movie and has also penned the dialogues and screenplay.
The movie will also feature actress Tanisha Mukherjee in the role of a young journalist who records Hazare's social-political travails in the biopic injected with three Hindi songs.
Reportedly, this biopic is a 130 minute long Hindi feature film. It took a years time to complete the movie and was shot at locales in Anna's native village Ralegan-Siddhi in Ahmednagar (Maharashtra), Mumbai, New Delhi, Jammu & Kashmir and Ladakh and Rajasthan, Manindra Jain who has produced the movie along with his son Udit.
"The film dwells on the life of 79-year-old Hazare, who is a revered social figure. The story starts right from his childhood days, his stint with Indian Army, his attempt to commit suicide once, his post-Army struggles within and outside, his rural transformation experiences starting with Ralegan-Siddhi, his nationalistic 'India Against Corruption' movement culminating in several laws like RTI and Lokpal legislations," Jain told IANS.
"This tale of his struggles, battles, truth, treachery inspired us to create more such Annas in modern times. It is our honest attempt to create inspiration through the film," he added.
Starting with Hindi, it will be later dubbed in English for the global audiences and in other regional Indian languages to take his message to all corners of the country.
Besides the promos, the film-makers plan to have a special campaign in Gujarat on October 2, the birth anniversary of Mahatma Gandhi, in Gandhinagar, Gujarat where Hazare will remain present.
(With IANS Inputs)