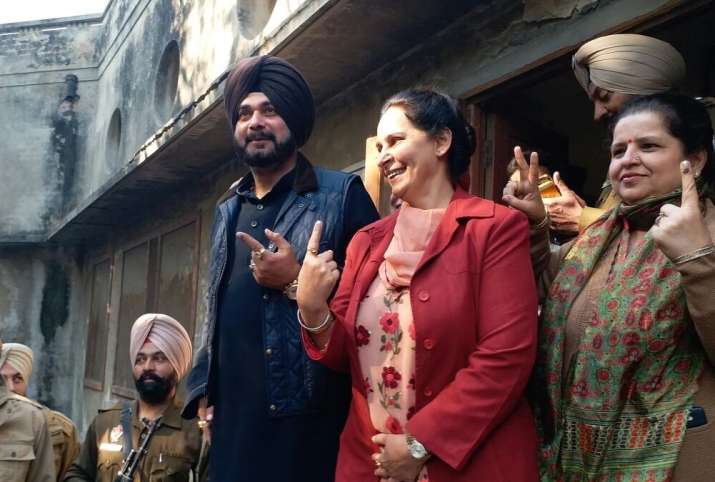 Congress, Aam Aadmi Party (AAP) and the Shiromani Akali Dal-BJP alliance are comepeting in the Punjab civic polls on Sunday. 
The process of voting to elect representatives to three municipal corporations and 29 municipal councils and Nagar Panchayats started at 8 am and ended at 4 pm. The results will be declared on Sunday evening.
It is the first big electoral outing for all three after the assembly elections in March.
Polling is being held for the municipal corporations of Amritsar, Jalandhar and Patiala. The election for the municipal corporation of Punjab's largest city, Ludhiana, was not being held as the electoral rolls were not updated.
Polling is also being held for 327 wards of the 29 Municipal Councils and Nagar Panchayats. Candidates in 90 wards have won unopposed, the spokesman said.
There are a total of 873 polling stations in the state, having 1,938 polling booths. A total of 8,000 election staff and 15,500 police personnel are performing duties at these polling stations.
A total of 413 candidates are in the fray in 85 wards of Amritsar where 769,153 voters will exercise their franchise.
In Jalandhar, 305 candidates are in the fray from 80 wards. The number of voters there is 560,261. In Patiala, election will be held in 57 wards in which 260,664 voters can exercise their franchise.
This is the first big election in the state after the Congress government, led by Chief Minister Amarinder Singh, came to power after assembly poll results in March. 
The Congress won 77 out of 117 seats in the assembly. The AAP finished second with 20 seats.
Here are the live updates on the Punjab civic polls voting: 
11:55 am: Punjab: Minister Navjot Singh Sidhu and his wife Navjot Kaur Sidhu cast their votes at Ward No 9's polling station 5 in Amritsar
Voting for #CivicPolls begins in Punjab, visuals from Amritsar. Polls being held in 3 municipal corporation - Amritsar, Jalandhar & Patiala and 32 municipal councils & Nagar Panchayats in the state. pic.twitter.com/cMCel39URF

— ANI (@ANI) December 17, 2017
8 am: Voting begins for Punjab civic polls.
7 am: Civic poll elections in 3 municipal corporation - Amritsar, Jalandhar & Patiala and 32 municipal councils & Nagar Panchayats in Punjab to be held today.