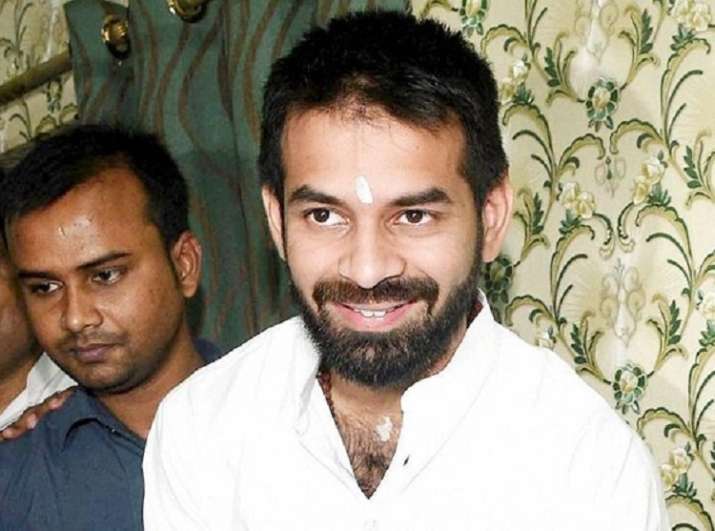 Tej Pratap is the beleaguered elder son of former Bihar chief minister and Rashtriya Janata Dal (RJD) chief Lalu Prasad Yadav. Apart from holding the post of a state Cabinet minister in Bihar, Tej Pratap Yadav is notoriously famous for his avatar as Lord Krishna and threats issued to Prime Minister Narendra Modi.
Quick facts about Tej Pratap Yadav:
Tej Pratap dropped out from school to pursue full-time politics.
On Republic Day 2019, Tej hosted an impromptu wrestling match on the RJD office premises in Patna.
Actually, he had gone to the party office to hold a 'janta darbar', but after finding the office locked, he arranged a wrestling match on its grounds instead.
When Lalu Yadav's security was downgraded, Tej had notoriously threatened to skin Prime Minister Narendra Modi alive.
Tej plays the flute to cows and blows the conch to energise supporters at rallies. And is apparently fond of dressing up as Lord Krishna. 
Tej Pratap was once called Kanhaiya by PM Modi: "Aap toh Kishan Kanhaiya ho gaye hain [you are becoming a likeness of Krishna]."
In 2017, Tej Pratap welcomed the New Year wearing a peacock-feathered turban and playing the flute in the family cowshed.
In February 2018, he vacated the bungalow he had been allotted as health minister, claiming CM Nitish Kumar Modi had released ghosts in it.
While taking oath as Bihar minister, he had fumbled twice, once pronouncing the work 'apekshit' ('expected'), as 'upekshit' (neglected).
In March 2018, during a wrestling event in Bihar Sharif, Tej Pratap promised a 'secular Ram temple built of bricks from Bihar'.
He also played the role of Bihar chief minister in a Bhojpuri movie 'Apaharan Udyog'.
ALSO WATCH: Lok Sabha Election 2019 LIVE Updates: EC prohibits Mayawati, Yogi Adityanath from campaigning for next 48 hours