Follow us on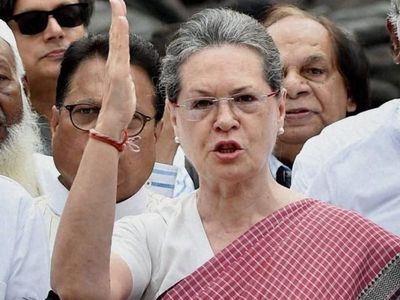 Amid a growing chorus to postpone JEE Main and NEET exams, Congress President Sonia Gandhi on Wednesday held a virtual meeting with chief ministers of seven states to discuss the issue. The exams, scheduled in September, have triggered protests by students who are demanding that the entrances be postponed in view of the coronavirus pandemic. The meeting, which students say is the "last hope", will began at 2:30 pm today. It is primarily being held to discuss issues related to GST collection and financial loss incurred by states because of COVID-19.
While the Joint Entrance Examination (Main) is scheduled from September 1-6, the National Eligibility cum Entrance Test (NEET-UG) is planned on September 13. A total of 9.53 lakh candidates have registered for JEE-Mains, and 15.97 lakh students have registered for NEET.
Here is who said what in the virtual meet:
Maharashtra Chief Minister Uddhav Thackeray cited a US report that said 97,000 children in the country were infected by the coronavirus disease when schools were reopened. "What will we do if such a situation arises here?"
Jharkhand Chief Minister Hemant Soren has said, "I think we should go to Prime Minister or President before approaching the Supreme Court." The Chief Minister of seven states meet Congress interim president Sonia Gandhi today via video conferencing.
"All of us who are sitting here should go to the Supreme Court (to file a review petition on the Supreme Court's order to hold NEET and JEE exams)," ANI quoted Punjab Chief Minister Captain Amarinder Singh as saying.
During the virtual meeting, West Bengal chief minister Mamata Banerjee suggested approaching the Supreme Court again for postponing the exams owing to the prevailing Covid-19 situation. "This will be my request to all the state governments, let us do it together, let us go to the Supreme Court and postpone the exam for the time being until and unless the situation allows students to appear for the exams," she said.
Banerjee also referred to the two letters she wrote to Prime Minister Narendra Modi earlier in the week seeking postponement on the entrance exams.
Puducherry Chief Minister V Narayanasamy said conducting of examinations will lead to a rise in a number of COVID-19 cases in the country. "Govt of India will be responsible for it. We will jointly fight the battle against the Central government on this issue."
After students' repeated requests, the National Testing Agency (NTA) on Tuesday conveyed again that the exams will be held as per schedule in September. The agency said it has planned several steps to conduct the papers safely which include increasing the number of examination centers, alternate seating plan, fewer candidates per room and staggered entry and exit. These steps have been introduced to ensure adherence to social distancing norms at the centres in view of the COVID-19 pandemic, the NTA said. 
Who all attended the meeting
Punjab CM Captain Amarinder Singh
Rajasthan CM Ashok Gehlot
Chhattisgarh CM Bhupesh Baghel
Puducherry CM V Narayanaswamy
West Bengal CM Mamata Banerjee
Maharashtra CM Uddhav Thackeray
Jharkhand CM Hemant Soren