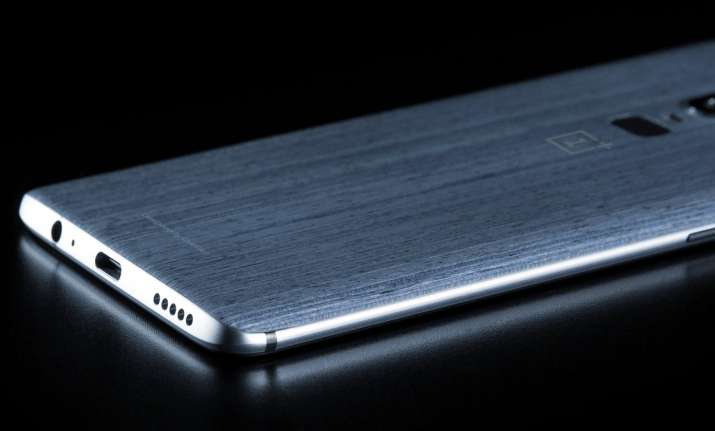 After OnePlus 5T's successful biz in smartphone market, Chinese smartphone manufacturer OnePlus are all set to launch OnePlus 6. On Tuesday, Evan Blass of evleaks shared the first picture of OnePlus 6. The picture shows a sleek device with wooden pattern, resembling its predecessor OnePlus 5T. Another feature that caught our attention is the 3.5 mm headphone jack. Going by Carl Pei's Twitter polls, it was expected that OnePlus 6 would be devoid of audio jack following the league of iPhones.
You've been **cough cough** good sports with this, so I suppose you do deserve /something/. Just remember: #yousawitherefirst pic.twitter.com/AWCHYZKJJE

— Evan Blass (@evleaks) March 27, 2018
The leaked images have sparked curiosity among the social media users as to when the phone will be launched. It is expected to launch early, as OnePlus5T is running out of stock in several markets, specifically in the US. However in India, OnePlus 5T is available for buying at Amazon India and OnePlus official stores.
The picture doesn't reveal much expect for the wooden back panel and 3.5mm headphone jack. It is also looking very much like OnePlus 5T. It also shows that OnePlus 6 will have a mono speaker, headphone jack and USB C. It also boasts about a fingerprint sensor on the rear camera, just like the OnePlus 5T. Also, the dual cameras in OnePlus 6 will be vertically aligned contrary to OnePlus 5T.
The design on the fingerprint sensor also differ in some ways. Instead of a round sensor, OnePlus 6 will come with rectangular sensor, just like Samsung Galaxy S9.
One cannot decipher anything about the hardware of the device going by the picture. But it is being assumed that OnePlus 6 will come with Snapdragon 845. It is also expected to come with at least 6GB RAM and 64GB storage. OnePlus 6 will have the same 6-inch screen like OnePlus 5T. The phone will have a dual camera system with high resolution front camera. The signature features of OnePlus like dash charging, buttons to toggle between silent and ringer modes, ability to switch the position of on-screen navigation buttons, will remain intact.
OnePlus 6 is expected to have Oxygen OS based on Android Oreo. It is also expected to provide assurance to its users that OnePlus 6 will get the Android P when Google releases that version.