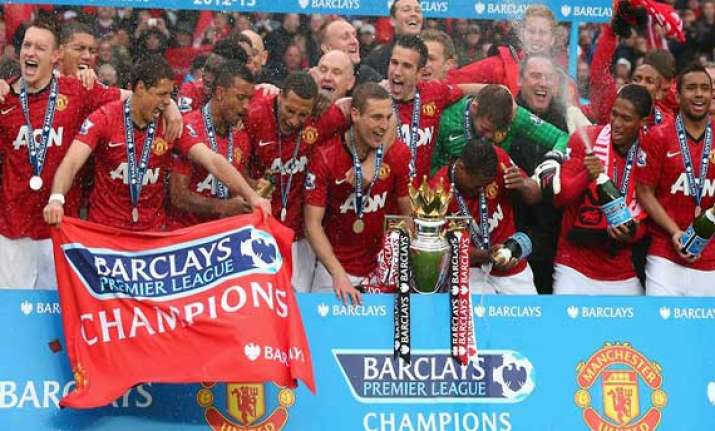 London: Going into a new season that will bring more exposure than ever, Premier League officials have written to clubs to emphasize the need for good conduct by players and managers after a series of high-profile disciplinary cases in recent years.
There will be increased attention on the world's richest league when it starts this weekend, with a new series of television deals generating around $8.5 billion over the next three seasons.   
The closing weeks of last season were marred by Liverpool striker Luis Suarez biting an opponent and being handed a 10-match ban -- having previously been banned the previous campaign for racist abuse.   
And Premier League chief executive Richard Scudamore said that at end-of-season debriefing with clubs "a lot of it was about players' conduct, ethical conduct."   
"We get hugely involved in the ethics of the game," Scudamore said Thursday. "In the email I have sent out to clubs preseason there is stuff in there about players' behavior, (club) officials' behavior."   
Scudamore, though, insists that the conduct of players on the pitch is improving.   
"Look at the amount of mass confrontations there were last season," Scudamore said. "There wasn't actually a single incident of mass confrontation at a Premier League game last season."   
Although the league has lost one fiery manager in Alex Ferguson, who retired in May after almost 27 years at Manchester United, Jose Mourinho is back at Chelsea.   
Renowned for his disputes with referees during his first stint in charge of Chelsea between 2004 and 2007, Mourinho claims to be a transformed character.   
And with Ferguson off the scene, the league is pleased to have the charismatic and colorful Portuguese back from spells at Inter Milan and Real Madrid.   
"It is absolutely essential that we have talent," Scudamore said. "Are we delighted to see Mourinho? Of course we are because he's a character, and a successful character, and a talking point. He's star-dust."   
But some of European football's biggest offseason moves have been made outside England, with Monaco one of the most attractive destinations.   
"The Premier League has never always been the No. 1 destination," Scudamore responded. "We never had (Zinedine) Zidane, (Luis) Figo. We've never always attracted the top ... we'll never measure ourselves by somebody else's list over who the world's best players are and whether we've got them."   
Adding to Scudamore's anticipation going into the opening weekend is the fact that last season's top three will be led by new managers, with David Moyes at champion United, Manuel Pellegrini at Man City -- and, of course, Mourinho looking to add to the two titles he won previously with Chelsea.   
"It's a complete juxtaposition where we've lost our biggest figure, the biggest we'll probably ever have, yet on the other hand it's created in some ways the mos
t interesting, most anticipated, most eagerly awaited seasons I can remember," Scudamore said.   
"What it's done is put ... more uncertainty into the mix about what the outcome might be."   
That, according to Scudamore, helps England's topflight retain its status as the world's leading domestic competition.   
"We are not going to see a mass exodus of players from the Premier League," Scudamore said. "The economic reality of world football will make sure that doesn't happen.   
"We are going to have 20 of the world's wealthiest top 35 in terms of income. You are not going to see a huge talent drain."   
Ideally, though, Scudamore would prefer the transfer frenzy to have disappeared before the season starts on Saturday, with United's trip to Swansea the headline fixture.   
With a Sept. 2 deadline for summer trading across Europe, there is uncertainty surrounding the futures of several of leading Premier League players.   
"If we could close the transfer window tomorrow night before the season starts it would suit us fine," Scudamore said. "But we are caught by UEFA. Each of the European leagues starts at a different time."   
A trio of attackers -- Manchester United's Wayne Rooney, Tottenham's Gareth Bale and Suarez, all seem to be pursuing transfers that are being denied by their clubs.   
Suarez has been the striker most publicly agitating for a move, but Scudamore doesn't see a problem with that sort of conduct.   
"Go back in time -- it's always happened where players have decided they have got a better offer and they'd like to move," Scudamore said. "It's no different now, other than it's out there and it's so exposed. And you've got agents, intermediaries playing their part in the unsettling. I can't go along with these lines that it's a rebellion."