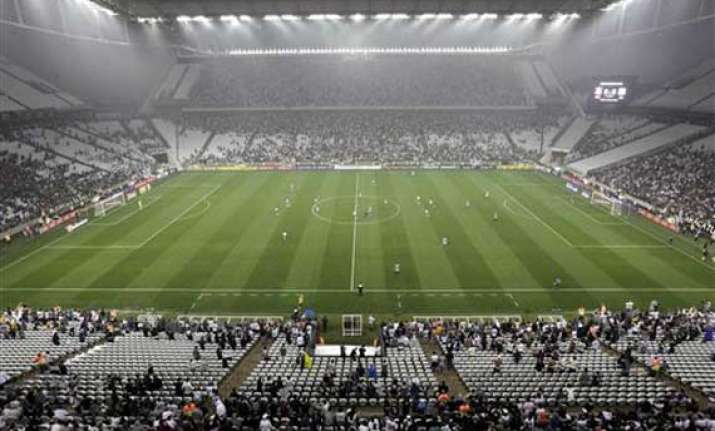 Sao Paulo: Brazilian organizers acknowledged problems but expressed satisfaction with the final two stadium tests for the World Cup on Sunday, including one at the troubled Sao Paulo arena that hosts the tournament opening game in a few weeks.
Brazilian league matches were played to inaugurate Itaquerao stadium in Sao Paulo and Arena Pantanal in the western city of Cuiaba.   
Organizers said there were problems at both venues, including a leaking roof at Itaquerao and a field invasion by a fan at Arena Pantanal. But no major setbacks were reported, and getting through the tests was important to help alleviate at least some of the concerns about Brazil's readiness for soccer's showcase event.   
"We are very satisfied," local organizing committee CEO Ricardo Trade said after the match in Sao Paulo. "There are wonderful things, but there are some adjustments to make, there are still some things to finish."   
Itaquerao, Arena Pantanal and Arena da Baixada in the southern city of Curitiba have been the most delayed stadiums ahead of the monthlong World Cup, which begins June 12. The final test at Arena da Baixada was last week.   
Now all 12 World Cup stadiums have held test events. None of the test matches were held at full capacity, however, as there is still a lot of work left at the venues, including the installation of seats.   
Some of the problems at Itaquerao were related to its unfinished roof. It rained heavily late in the first half and there was hail falling at halftime, forcing some fans to scramble for cover because not all seats were protected.   
The construction company in charge of the venue confirmed to The Associated Press on Friday that glass covers to be installed in part of the roof will not be ready until after the World Cup, so the same problem could happen during the tournament. Local organizers said it was never a requirement to have all seats covered at World Cup stadiums.   
Itaquerao will host nearly 70,000 people during the opening match between Brazil and Croatia, but only 40,000 were allowed in for Sunday's match between Corinthians and Figueirense.   
Arena Pantanal had already hosted an official match in April but only half the seats were installed at that time. In Sunday's game between Atletico Mineiro and Santos for the final test, a fan slipped past security and got on the field.   
FIFA, soccer's governing body, usually wants three test events in stadiums hosting World Cup games, but it had to accept less than that in Brazil because of the preparation delays. Beginning this week, FIFA will start taking over the stadiums to work on its own preparations.   
Much work remains outside the stadiums, especially on projects for improving nearby roads. At most of the sites, the installation of temporary structures to accommodate sponsors, media and technical teams is likely to continue until just days before the tournament begins.