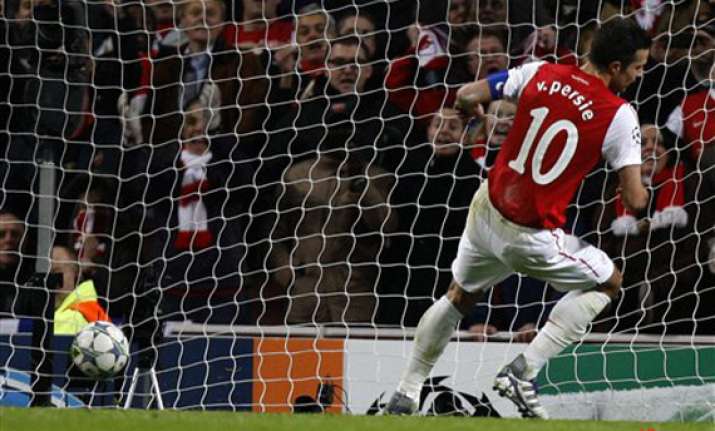 Paris, Nov 25: Robin van Persie was a better footballer than Lionel Messi in 2011. Or are statistics which suggest that misleading?
Either way, this is official: It is plain absurd that the captain of Arsenal isn't a nominee with Messi for FIFA's Golden Ball award.

Seems Van Persie and injustice are bedfellows. Remember his sending off against Messi's Barcelona in the Champions League in March?
Van Persie claimed he did not hear Massimo Busacca blow his whistle. Seemed plausible given the din from the 95,000-plus Nou Camp crowd.

The Swiss referee didn't want to know and he ordered Van Persie off. Whether Arsenal might have won that match if Van Persie's hearing had been better and if the Dutchman had stayed on the pitch remains one of football's unanswerables.

In fact, "what if?" follows Van Persie around. That the question is posed in relation to Van Persie shows his importance to Arsenal and the London club's ambitions and future.

If the strong, reliable and intelligent scorer of goals had not hurt his knee volleying home his strike in the League Cup final in February, forcing Arsene Wenger to replace him in the second half with wet blanket Nicklas Bendtner, might Arsenal have won the trophy, instead of losing 2-1 to Birmingham?
Possibly.

If Van Persie hadn't torn right ankle ligaments playing for the Netherlands, forcing Wenger to muddle on without him for five months (he even resorted to the bottom-of-a-barrel measure of playing the ill-suited Andrei Arshavin as a central striker), might Arsenal have won the Premier League title in 2010, instead of Chelsea?
Maybe.

If Van Persie picks up another long-term injury now, will Arsenal finish out of the English league's top four places this season and not qualify for Champions League football and its financial riches next season?

Quite likely.

Will Arsenal be sorry if Wenger cannot get Van Persie to commit to a new contract before his current one expires in 2013?
Definitely.

The departure of Cesc Fabregas this summer for guaranteed trophies with his boyhood club, Barcelona, and Samir Nasri's swoon for the petrobillions of Manchester City left Van Persie, a 2010 World Cup runner-up with the Netherlands, as Arsenal's only remaining, verified world-class player. Jack Wilshere and Theo Walcott are still proving themselves.

Arsenal is without a trophy since 2005. Wenger's Catch-22 is that he needs players of Van Persie's caliber to change that, but he also needs trophies, or at least a realistic hope of winning them, to keep and to attract stars.

The reported US$5.7 million Arsenal paid in 2004 for the Netherlands international looks like a bargain now. Healthy, the 28-year-old has proven as reliable as English rain. As Arsenal fans say: "We don't need Batman, we've got Robin." A basic rule shown to be true in 24 Premier League games is that the club doesn't lose when Van Persie scores the first goal.

So far in 2011, he has scored 31 goals in 29 league games. He is only the fifth Premier League player to score 30 in a calendar year. He is the English league's leading scorer this season, putting away 13 of Arsenal's 25 goals as it has awoken from a lumbering start that included a horrific 8-2 mauling at Manchester United in August.

Van Persie's success rate in the league is outstripping even Messi's in La Liga. The world's best player has scored 29 in 31 Spanish games for Barcelona in 2011.
Van Persie's strength, quick feet and polished technique so prized in the Netherlands are often cited as reasons for his goals. But the intelligent way he spots, creates and sprints into gaps in defenses is exceptional, too.

"He is always in the right place at the right moment and he got two goals again tonight from positions that look easy but they are not. He just understands the game so well," Wenger said Wednesday after Van Persie scored both Arsenal goals in a 2-1 win over Borussia Dortmund that qualified his team yet again for the Champions League knockout stage.

"We hope we can keep him fit and with us for a long time."Messi should be player of the year for 2011, just as he was in 2010 and 2009. The FIFA Ballon d'Or winner will be announced Jan. 9. But there's no real suspense. As good as the 22 other nominees are, Barcelona's star is better.Still, Van Persie should have been on that list, too.