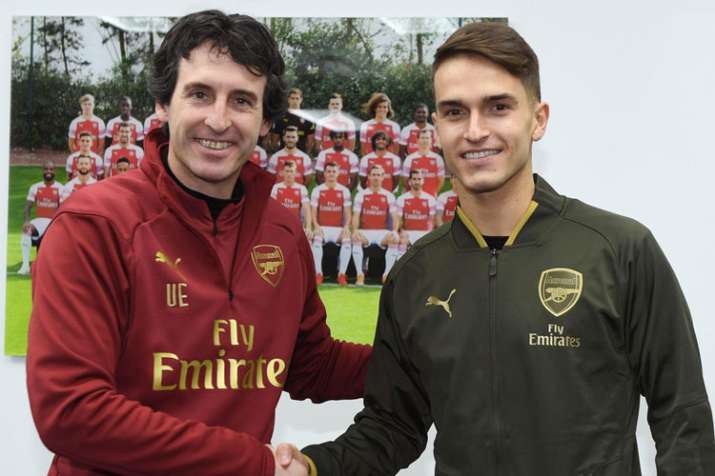 Arsenal have signed Spain international Denis Suarez on loan from Barcelona until the end of the season.
The move reunites the 25-year-old midfielder with Arsenal manager Unai Emery, with the pair having worked together at Sevilla in the 2014-15 season.
Suarez, whose one appearance for Spain came in 2016, can play in positions across the midfield. He is back in England after spending two seasons at Manchester City from 2011-13, during which he made two appearances in the English League Cup.
"I have a very good relationship with Unai Emery. I think he's a very demanding coach and one of the best coaches in the world right now - I've been saying that for a while," he told Arsenal Player.
Finally, the notification you've all been waiting for 😉

Welcome to Arsenal, @DenisSuarez6 👋#HolaDenis 🔴

— Arsenal (@Arsenal) January 31, 2019
 
"Sevilla was my first year playing football at the elite level - my first year in the top division. I improved a lot as a player thanks to him. He really helped me. I think he was a big part of the reason I was able to go back to Barcelona after leaving on loan.
"The main thing is that he dedicates a great deal of time to his work. He spends many hours and days watching videos of other teams and his own side.
"His training sessions are really demanding and he ensures that the team is completely prepared. But as I say, the biggest thing is the time he dedicates to his work. As we'd say in Spanish, he's 'un enfermo del futbol' - football mad."
Our new loan signing spent time with Manchester City at the start of his career but, growing up, it was another Premier League side that caught his eye.
Suarez spent time with Manchester City at the beginnong of his career but growing up, it was the Gunners that caught his eyes.
"One thing no one knows about me is that when I was little and I used to watch the Premier League on the TV, Arsenal were a team that really inspired me," said Denis.
"I used to watch Bergkamp and Henry - they're both legends of the club and hopefully we can follow in their footsteps."
Emery was also a happy man with the signing of the 25-year-old.
"We are very happy that Denis Suarez is joining us. He is a player we know well and I have worked with him at Sevilla. He brings us quality and options in many different attacking positions, so he'll be able to help the team," Emery said.