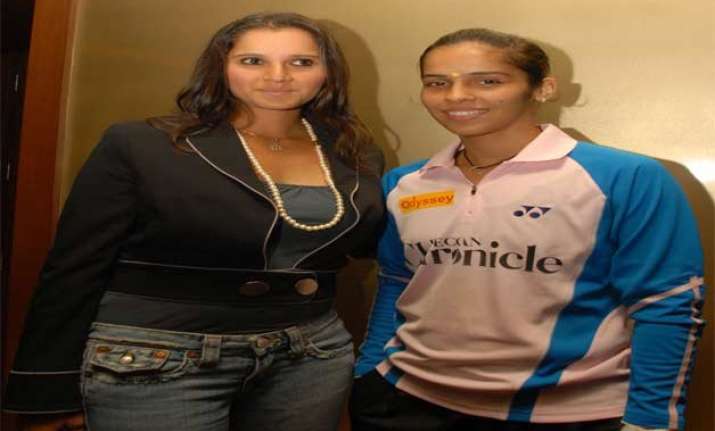 Hyderabad: Saina Nehwal has officially been anointed the No.1 woman player in world badminton. Sania Mirza is on the cusp of becoming the top-most in tennis doubles - she is No.3 right now. The two Hyderabadis are the best role models for young Indian women trying to make a mark in today's highly competitive world of sport.
The recognition has not come easily to them. Questions were raised about their ability to be worldbeaters, dismissing their hard-earned achievements as flashes in the pan. Both showed early promise and on the way up suffered injuries and indignities. Undeterred, the two have proved the naysayers wrong.
Both have done India proud in sports in which the women from the country were not counted for much. If Saina is the first Indian to win a Superseries Premier title and an Olympic medal, Sania is the first Indian woman to win a Grand Slam title, adding two more over the years.
These are no mean achievements in a country where people do not see beyond cricket and the place considered dangerous for girl child by the Department of Economic and Social Affairs of the United Nations. Both are symbols of woman power.
There may not have been any biopics made on the two champion women yet like the one on boxer M.C. Mary Kom, portrayed by actress Priyanka Chopra, but there have been any number of outstanding athletes who have inspired generations of individual sportswomen. There was a time women outshone men.
Take P.T. Usha, Shiny Abraham, M.D. Valsamma, Anju Bobby George in athletics or Karnam Malleswari and Kunjarani Devi in weightlifting, boxer L. Sarita Devi, chess grandmasters Koneru Humpy and Dronavalli Harika, squash players Dipika Pallikal and Joshna Chinappa, the Phogat sisters Babita Kumari, Sangita and Vinesh in wrestling, to name a few popular ones, they have all done exceptionally well internationally.
Sania hit the headlines first as she battled it out with the established order. She rose to be World No.27 in singles and looked good to be among the top ten on the Women's Tennis Association (WTA) charts.
Wrist and knee injuries halted her march and she had to finally settle for doubles play so as not to punish her body. The decision was proved right and she built her career all over again.
She has won three Grand Slam mixed doubles titles, twice a losing finalist, and narrowly missed one in doubles with Russian Elena Vesnina at the Roland Garros. She is now playing with Martina Hingis, the five-time Grand Slam winner, and with the Swiss partner she expects to win a Grand Slam.
Saina, who is three years younger than Sania, also had to wrestle with injuries. But she worked hard to regain her fitness and form. Just when her form and consistency dipped she had to take some quick hard decisions to resurrect her career.
Her decision to leave long-time coach Pullela Gopichand and join Vimal Kumar in Bangalore was not easy, but she decided to take the plunge, it is irrelevant whether she informed Gopi or he came to know of her sudden move through the media.
These days media has one stock question for Saina: What's the difference in the coaching styles of Gopichand and Vimal Kumar. Pat comes the well rehearsed reply: Under Gopi Sir, I had been playing finals and to go beyond that I needed someone who can give long hours, Vimal Sir is doing that.
Along the way, Saina has also been able to crack the Chinese code and is having a great time playing and beating them.
Right now, both are going through a dream run on their respective pro circuits. The impatient Indian fan would not easily accept their class or status without scrutiny over a long period.
A remarkable coincidence, another of Gopi protege, Kidambi Nammalwar Srikanth's success graph is running parallel to Saina's.
Both won the China Open singles titles, Srikanth beating five-time world and twice Olympic champion Lin Dan who is already talking of a third Olympic medal at Rio, and they have done a jugalbandi again in Delhi.
Srikanth's rise has been steady, graduating from the ranks. The 22-year-old son of a farmer from Guntur in Andhra Pradesh is currently the highest ranked Indian player at four in the men's section.
A hint of his class was seen in the Singapore Superseries final last year when he stretched the the then No.1 Lee Chong Wei, who is now serving a drug suspension. He could not clinch the first game leading 19-16, and in the second he saved three match points from 15-20 before going down.
Srikanth has been on a roll ever since winning the China Open Superseries Premier in November. He reached the semi-finals of the Hong Kong Open, World Superseries Finals, made it to the final of Syed Modi Grand Prix Gold.
This year, he beat Denmark's Viktor Axelsen in back-to-back finals, first at the Swiss Open and then in Delhi, the only difference being he won the first game at Basel whereas in the India Open he rallied from a game down.
It is not going to be easy for Srikanth, but he has shown he can deal with pressure situations by reeling off an amazing 11 points trailing 10-12 in the decider to against Axelsen in Delhi. That shows he has the game and courage to fight back, he only needs more of it if he has to stay among the top.
At Basel, the discerning pundits saw a new star being born whereas after the China Open he was a luminous star in his own right.