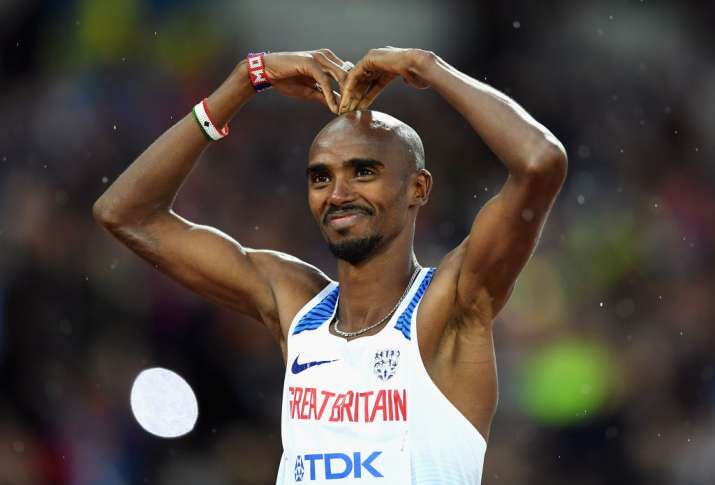 It's not every day that an Indian gets a chance to compete with Mo Farah and Govindan Lakshmanan said that running the 5000m heat alongside the reigning King of middle distance was an "experience of a lifetime". Lakshmanan clocked a personal best timing of 13 minutes 35.69 seconds, finishing 15th in his heat and 31st overall among the participants in the two heats. 
"It was a dream come true to be running with Mo Farah. He is an inspiration for me. I feel very good. It is a lifetime experience to run with him. This is his last competition and he will not run again," Lakshmanan told PTI today. 
"I was concentrating on my race, so I don't know how he was running but I feel good to have run with him," Lakshmanan added. 
Lakshmanan's coach Surendra Singh is happy that his ward was able to compete with the British legend and the quality of competition will only enable him to do well at the Commonwealth Games in Gold Coast, next year. 
"I told him this is a very good opportunity to break the national record here in London. Low temperature is actually good for long distance runners. There was Mo Farah, the Kenyans, Ethiopians and other runners, all world class." 
His coach wants Lakshmanan to target Bahadur Prasad's 25-year-old national record timing of 13 min 29.70 seconds in Gold Coast. 
"You can improve your timing only in this kind of situations when competition is strong. He missed out (here) but he will do it. I think he can break the national record next year in Australia (In CWG). The conditions will also be very good there in Australia," Surendra, the current national record holder in 10,000m, said. 
Lakshmanan on his part was happy to compete in conducive weather conditions which was sub-15, something he never gets while competing in the Asian regions. 
"The conditions were very good. The low temperature and my competitors including Mo Farah. You don't get these kind of top class competitors to run with. The rain was the only issue, the track was wet. But I came into the race with the target of breaking the national record," Lakshmanan said. 
"I did a lot of practice here in the past 10 days to break the national record. I tried but missed it by five seconds and I am disappointed. I will do next time. The last lap was a bit tight. I could not qualify for the final round but I would have been happy if I had broken the national record," said Lakshmanan, who won gold in both 5,000m and 10,000m races in the Asian Championships in Bhubaneswar, last month. 
Lakshmanan has been the only Indian athlete so far to have performed better than his personal best in the ongoing World Championships. 
He said he will try to break the national record during the Commonwealth Games in Australia next year. 
"I want to do well in the Commonwealth Games in Australia, the competition will be good there. I want to run 13:28 there. My coach (Surendra Singh) said I can run 13 min 22 seconds. I want to improve my timing. This is my first World Championships, I will do better next time," Lakshmanan signed off.
(With PTI Inputs)