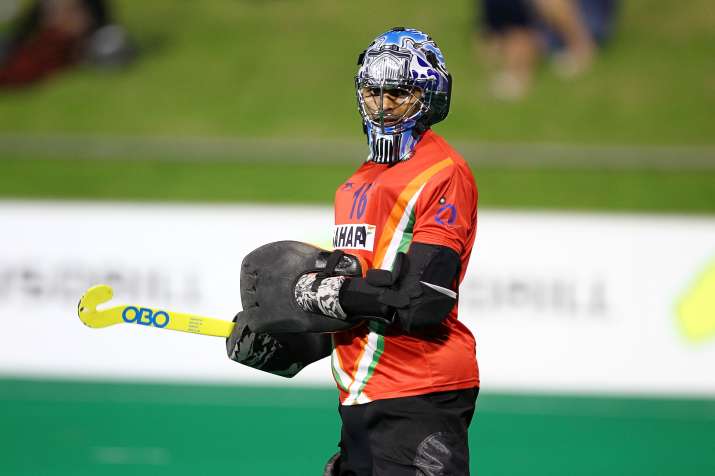 Veteran goalkeeper P.R. Sreejesh has replaced midfielder Manpreet Singh as the former regains the captaincy of the Indian men's hockey team till the end of the year, it was announced on Friday.
"Sreejesh returns to the leadership role after coming back from an injury break," Hockey India (HI) said in a statement.
Hockey India also declared that forward Rani Rampal will continue as the women's team captain.
Sreejesh was given the captaincy in 2016 for the FIH Champions Trophy where India, under his leadership, won a historic silver medal. He was entrusted the leadership mantle for the Rio Olympics. 
He also shouldered the responsibility of mentoring junior men's team as goalkeepers Vikas Dahiya and Krishan Pathak put up excellent performances at the Hockey Junior World Cup Lucknow 2016 where Indian team won the title.
During the 2017 Sultan Azlan Shah Cup, the experienced goalkeeper tore his anterior cruciate ligament in his right knee. Sreejesh returned to action at the four-nation invitational hockey tournament in New Zealand in January 2018 putting up a strong performance where India finished second.
Ahead of Sreejesh-captained team, India has a busy calendar ahead, with Hockey Champions Trophy at Breda, the Netherlands in July, the Asian Games at Jakarta in August, Asian Champions Trophy in October and the much-awaited World Cup in Bhubaneswar in November-December lined up in 2018.
Rani, meanwhile stepped up in to the role of captain guiding India to an Asia Cup win. Under her leadership, the team climbed from 12th to the 10th position. Always leading from the front, Rani also led the team to make a semi-final appearance, first in 12 years, at the 21st Commonwealth Games in Gold Coast earlier this month.
HI Secretary General Mohd Mushtaque Ahmed: "Besides being exceptional players, both Sreejesh and Rani command great respect. The two have led the country with great enthusiasm and we believe using their experience, they will continue to do that in this all-important calendar year where both the team's have important tournaments like World Cup and Asian Games to play in. 
"The idea behind announcing one captain for all events until the end of the year was to bring stability to the core of both the teams."