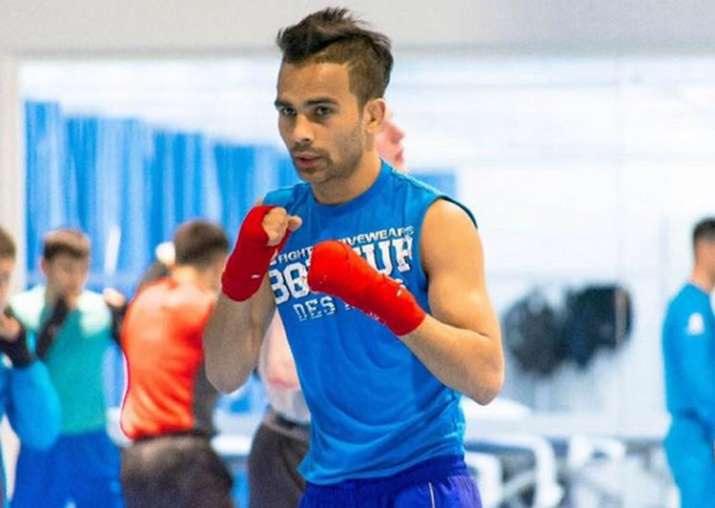 Confidence bruised by near-misses and a nagging back injury -- this is what Gaurav Bidhuri carried into the World Boxing Championships before his career got a new lease of life by the lone medal he assured for India. The 24-year-old was not even meant to be in the team till the second half of July which is when fortune smiled on him and he was handed a wildcard entry by the Asian Boxing Confederation (ASBC). "When I got to know that I have got a wildcard entry, I went around confirming it with every coach, I kept asking 'is this right?' I asked each one of them. I asked everyone and only after each one of them said that I have made it, I finally eased up a bit," Gaurav told PTI. 
The Delhi-boxer has never been among the most talked about in Indian circuit and has been prone to making quarterfinal exits in almost every tournament he was picked for. 
The most recent of these quarterfinal exits happened in the Asian Championships in Tashkent earlier this year, where he twice missed the chance to qualify directly for the world showpiece. 
"I have nearly always lost in the quarterfinal stage of every tournament that I have competed in. Here also, once I reached quarters, I was having these negative thoughts that 'may be again the same thing will happen, I will lose, that I am not good enough'. But then another part of me was also telling me to break this jinx," he spoke about how he sparred with creeping self doubts. 
Asked how he steeled up for competing despite his seemingly volatile mind, Gaurav conceded it wasn't easy to shake off negativity. 
"It is the toughest part of being an athlete, to control the mind. I was having all kinds of thoughts. All of them were not negative but then not every thought was positive too. There was a lot of noise in my mind, something which only I could hear," smiled the youngster. 
And now, Gaurav might become the first Indian boxer to win a medal better than bronze at the prestigious championships should he go on to win his semi-final on Thursday. 
"I have been battling a lot injuries but did not care about them. I have had severe back problems for the last seven-eight months but I did not care about that and have been training relentlessly and finally I have won a medal," Gaurav said. 
Gaurav will fight his bantamweight (56kg) semifinal bout against American Duke Ragan on Thursday. 
By advancing to the last-four stage, he joined Vijender Singh (2009), Vikas Krishan (2011) and Shiva Thapa (2015) in a select band of Indian boxers to have finished on the podium at the biennial mega-event. 
On Thursday, he wants to go a step ahead of Vijender, Vikas and Shiva and make the final to ensure that India finishes with a medal better than bronze. 
He said it would also help him get closure for all the near misses of the past, which also includes a quarterfinal exit from an Olympic qualifying event last year. 
This, despite the fact that he had been in good form coming into the tournament. He had won a gold medal at an invitational tournament in Czech Republic in July but was still a long way off from being even considered a top medal contender here. 
However, his prequarterfinal win over Ukraine's Mykola Butsenko, a two-time European Championships' silver-medallist and 2013 world championship bronze-winner, brought him into focus. 
He is ready to fight pain as he would like to add a different colour to his medal. 
"I am suffering actually. I can't sit for too long and can't even sleep for too long. I have trouble walking as well but it's all worth it now," the Delhi lad said. 
India's Swedish coach Santiago Nieva, perhaps, summed it up best. 
"He got a lucky break, he made it count. That's luck, that's life.