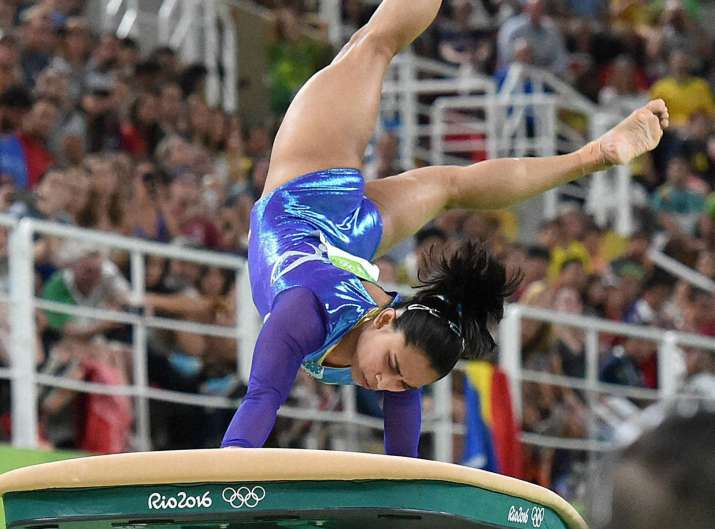 In a case of online harassment, a Jaipur woman was verbally abused and got threats of sexual violence on Sunday when she tweeted about her feeling on gymnast's vault final at the Rio Olympics.
The woman also sought online help of external affairs minister Sushma Swaraj, Rajasthan CM Vasundhara Raje, and Union women and child development minister Maneka Gandhi.
In a string of tweets, she had written, "It is an incredible achievement, of course but gymnasts from richer countries don't have to perform Produnova, called the death vault, to gain points. They can do easier vaults, and execute it better because: better infrastructure, better training, better everything. Tonight, she is going to risk her life to win an Olympic medal. Life is not worth any medal, for any damned country."
Meanwhile, Rajasthan police have lodged a complaint against harassers for sexually abusing and circulating her picture on social networking platform.
Commissioner Sanjay Aga-rwal not only took action against harassers but also asked woman why she used the word 'damn' for any country.
Confirming this, the woman tweeted: "The police left. They registered a complaint against online abuse. But I was questioned on using the word 'damned'. I told them I hadn't used the word for India. So they let it go."
Earlier, trailblazing Dipa Karmakar said that she's not disappointed at missing out on a historic bronze in the vault final of the Rio Olympics and that she's satisfied of her performance.
"I never expected a medal from this Olympics but to have come fourth is very creditable. In boxing, wrestling you get a bronze even when you finish fourth but not for me. It was very close to medal. After four years, my target would be gold," Dipa said brimming with confidence.
"For me this is my first Olympics. But I don't need to be disappointed I will give my best in Tokyo 2020," she said.
The 23-year-old Dipa, who had become the first Indian woman gymnast to have qualified for the Olympics, scored an average of 15.066 points, a mere 0.15 less than the eventual bronze winner Giulia Steingruber (15.216) of Switzerland.
The gold went to American pre-event favourite Simone Biles (15.966) while reigning vault world champion Maria Paseka of Russia got the silver with an average of 15.253 points.
Dipa could have been in the reckoning for a medal had she not landed on her haunches in her risky 'Produnova' vault for which she is now known all over the world. Dipa landed on her feet but then sat down and lost points.
She scored 15.266 from her 'Produnova' with 8.266 points for execution for a difficulty level of 7. The average of the two attempts gave her 15.066, a mere 0.15 difference with bronze winner Steingruber.
"This is my highest score in Prudonova, I had 15.1 earlier. I am very happy with my vault. I gave my whole effort to bring an Olympic medal for my countrymen. But it was a bit luck."