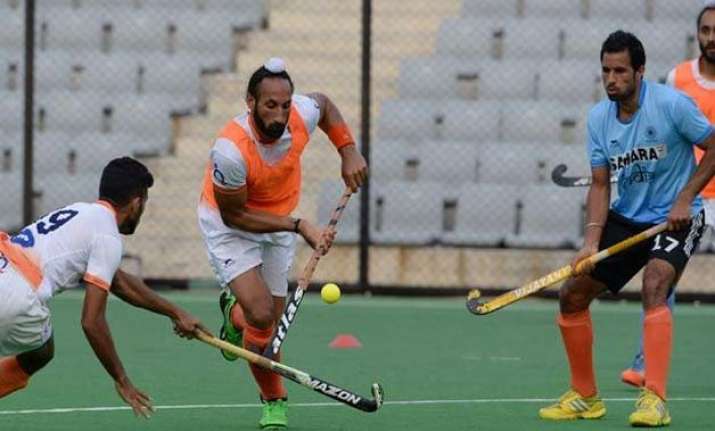 New Delhi: Indian hockey team today began the preparation for the upcoming Test series against Japan but coach Paul van Ass has FIH Hockey World League semi-final in mind as the players fine-tuned their skills in a practice session, here.
The India-Japan Test Series is scheduled from 03 to 09 May 2015 in Bhubaneswar.
Coach Paul van Ass worked with the team, overlooking the session.
"For the last few days, we have been working hard with FIH Hockey World League semi-final keeping in mind. We know there will tough teams we are going to face but nothing is impossible for our team. This preparation camp and the upcoming Japan Series will be very important for us. We will play at the highest level against Japan and will bring out the best performance from the team," the coach said.
"I believe that best performance come out of high pressure. For me defense line-up is not with four-five people only, it's the whole team-effort. So we are working to strengthen defense-side in the whole team. We are hoping for the best performance in the Japan Series and will take-out some positive results."
Captain Sardar Singh said, "As of now, we are focusing on the preparation camp and the upcoming Japan Series. Our only job is to implement strategies on field and bring-out best results out of the matches. These results and inputs will help us in the FIH Hockey World League Semi-Final round."
"After the Sultan Azlan Shah Cup, the team is in better shape and very confident. We just need to strengthen our mental and physical stability, which help us in our team-work. We are looking forward to the Japan Test Series and expecting a good show.