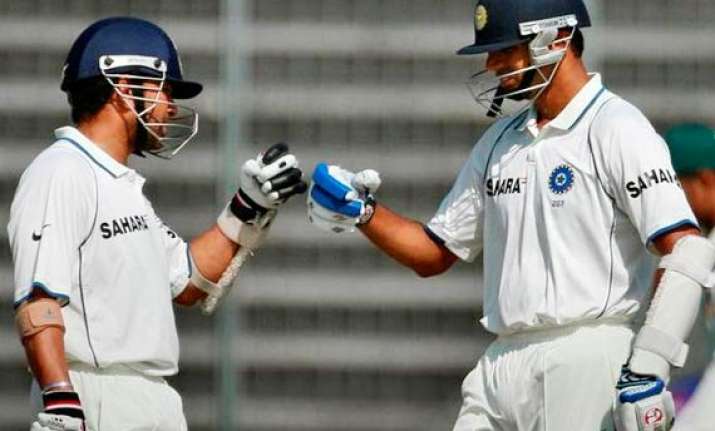 New Delhi, Aug 2: England's continuing dominance on world number one India in the ongoing Test series is beginning to reflect in the ICC rankings as well with several of their players rising to career-best positions in the list released on Tuesday.  

Down 0-2 in the four-match series, India's players, with the exception of Rahul Dravid (up four places to 11th) and Sachin Tendulkar (up one place to third), either slipped or just managed to hold on to their places.

Dravid, who made his second consecutive Test match hundred of the series, continued his climb up the rankings and is on the verge of breaking back into the top 10, with his best batting rating since India's last Test series in England in 2007.

But VVS Laxman slipped a couple of rungs to ninth in the batting chart, while Ishant Sharma lost a spot to be eighth in the bowling list.

India is in fact in real danger of losing the numero uno spot to England as a win of two clear Tests in the four-match series (2-0 or 3-1) will see Andrew Strauss's men topple the visitors. The table is updated only at the end of each series.

For England, Ian Bell broke into the top five after recording a career-high batting rating following his 159 against India in the second Test at Trent Bridge, the ICC said in a statement.

Stuart Broad's all-round heroics helped him climb to third in the all-rounder rankings, while he has also jumped to seventh in the bowling table following match figures of 8-76.

Bell, who recorded his fourth century in the space of six Test matches, has achieved a new career-high rating and is just 16 rating points behind England and county teammate Jonathan Trott, who has slipped two places to fourth.

Matt Prior (21st), Stuart Broad (44th) and Tim Bresnan (joint 75th) have also achieved new career-high ratings following England's 319-run victory.

It is, however, not all good news for England's batters as Alastair Cook has slipped six places to 11th following a disappointing series in which he has made just 20 runs in four innings.

Tim Bresnan has risen 14 places in the bowling rankings, following his first five-wicket Test haul, which put him 25th on the list, while his innings of 90 in the second innings has helped him rise to 13th in the all-rounder standings.