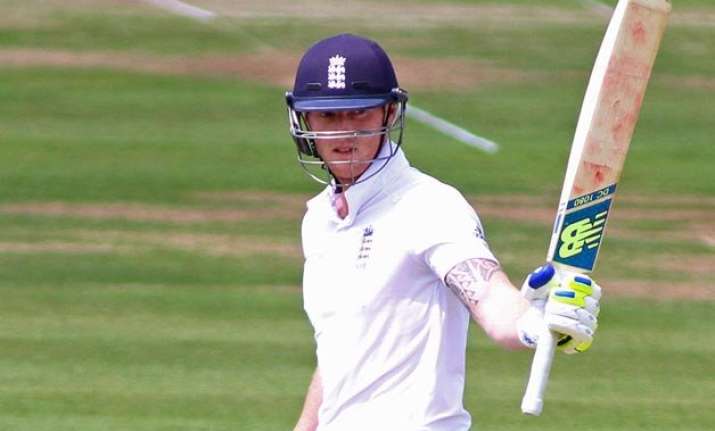 London: Joe Root and Ben Stokes pulled England out of dire straits against New Zealand on a compelling first day of the first cricket test at Lord's on Thursday.
Root and New Zealand-born Stokes, who came together at 30-4 after the first hour, combined for 161, a comeback as stunning as New Zealand's opening salvo.
Their scores of 98 and 92 respectively propped up England's impressive total of 354-7, which was impossible to fathom after the first hour.
New-ball pair Tim Southee and Trent Boult made the first strikes, and fellow fast bowler Matt Henry picked up captain Alastair Cook and Ian Bell to put the hosts in deep trouble at 30-4 in the 13th over.
England was sent in by toss-winning New Zealand captain Brendon McCullum, and hunkered down in the face of relentlessly accurate seam and swing bowling on a green-tinged pitch in sunny conditions.
But in the next hour to lunch, England took the initiative from New Zealand by taking on the bowlers and the attacking field. Root and Stokes counterattacked, sharing the strike, running quickly, and scoring at ODI pace.
The three New Zealand pacemen began to lose their accuracy, perhaps because they haven't played a test in five months, and Root and Stokes zoomed England to 113-4 by lunch. They were a tad more leisurely afterwards, though still pyrotechnic by test standards.
Root was first to his 50 off 53 balls, including eight fours, most of them behind square. He punished anything short, or went on the back foot to give himself more time.
Stokes, promoted to No. 6, reached his half-century off 55 balls, clubbing nine boundaries.
After Stokes blasted Henry and Boult for 25 in two consecutive overs, drinks were taken, and the New Zealanders huddled around McCullum. His speech didn't need to be heard. The Kiwis needed a wicket, or at least contain Stokes and Root, as they were tearing up their quality attack.
The pep talk worked. The return of offspinner Mark Craig turned England's tap off. Then he dismissed Stokes, bringing an end to his and Root's entertaining partnership, which motored at more than five runs per over.
Stokes plundered 15 boundaries and a pulled six in reaching 92 off 94 balls, but instead of being caught out on the midwicket boundary, as seemed likely, he stepped back from a delivery by Craig, and watched it knock over the top of his off stump.
It was uncharacteristic of his innings, but understandable considering this was the closest he'd been to a century in 17 months, since his maiden ton in the Ashes test at Perth in December 2013.
His was the only wicket to fall in the middle session, and he walked off to a rousing ovation, as did Root half an hour into the third session.
Root's 98 was no surprise. He was awarded England player of the year this week for blasting allcomers in tests and ODIs. Since he was dropped for the fifth Ashes test in January 2014, he's been virtually unstoppable. He came into the test averaging nearly 95 in 10 tests, and exceeded the average here.
Like Stokes, he'll be kicking himself for the way he fell two runs short of his seventh test ton. He took a swish at a wide Henry delivery, and sent a bottom edge behind.
Even with the new ball for the last 10 overs, New Zealand couldn't beat the defenses of Jos Buttler and Moeen Ali until the last ball of the day.
Buttler and Ali put on 103 runs together, fluid and untroubled until Buttler's back leg was caught plumb by Boult.
Buttler was out for 67, and Ali left on 49 not out, but they made batting look easy. Thanks to the psychological blows dealt by Stokes and Root, it was.