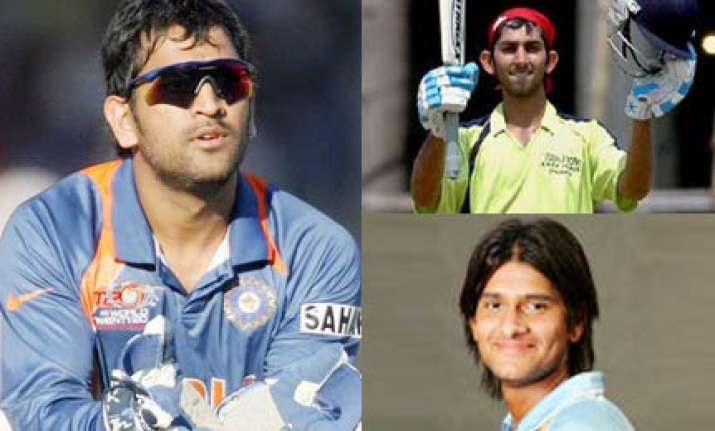 The rise of Team India skipper Mahendra Singh Dhoni has spawned the emergence of a new generation of stars in cricket.  With stupendous performances in their heydays, cricket icons like Sunil Gavaskar, Bishen Singh Bedi and Gundappa Viswanath inspired a generation of youngsters. Now, Dhoni's rise seems to have had a similar impact on budding cricketers in Jharkhand.
Ishank Jaggi, Rahul Shukla, Varun Aaron and Sourabh Tiwari have all found places in different Indian Premier League franchises.
"No doubt, Dhoni's emergence has driven the kids from Jharkhand to excel in cricket. His towering presence and consistent performance has instilled confidence in budding cricketers which is reflected in four players finding places in the IPL teams," observed former Bihar Ranji captain Adil Hussain.
"During our days, players from Bihar and Uttar Pradesh hardly found any place in national teams. The yardstick for selection was their performance in Ranji Trophy and these players hardly got any chance to showcase their talent," argued Hussain.  
Here we discuss three such players:  
Saurabh Tiwary of Mumbai Indians:  
Tiwary (born December 30, 1989 in Jamshedpur) is a middle order batsman.
Saurabh Tiwary represents what the Mumbai Indians have to offer in terms of its young talent. This hard-hitting batsman has more than just age on his side.
A powerful stroke maker, Tiwary could be one of the unknowns to excel in the IPL. Having captained Jharkhand at a young age, Tiwary exudes plenty of confidence and leadership skills.
 The highlight of his career so far has been being a member of the India Under-19 squad that won the World Cup in Malaysia in 2008. His performance in the second IPL season might not have done justice to his talent, but plenty more opportunities in the coming seasons is definitely on the cards.
Varun Aaron of  Kolkata Knight Riders:
Kolkata Knight Riders skipper Sourav Ganguly spoke about 20-year-old Varun Aaron as someone who could bowl at 90 miles an hour before proclaiming him as a future star of Indian cricket.  
Even coach Dav Whatmore playfully pretends to duck when he crosses paths with the youngster from Jharkhand. Unlike Kamran though, Aaron has risen through the system and has always stood out with his pace.
"I have always tried to bowl as fast as I can and have been recognised for my pace even at the junior level," says Aaron, whose father shifted from Bangalore to Jamshedpur in the 1980s.  
Ishank Jaggi  of  Royal Challengers Bangalore:
Jaggi, born January 27, 1989 is a right-handed batsman and a leg-break bowler who plays for Jharkhand. He was born in Bacheli..
Jaggi began his youth career playing with Bihar's Under-15s team, in the 2002-03 Polly Umrigar Trophy - scoring a duck in his first appearance.
Though he did not make another appearance in that season's competition, he played five further games in the following season's competition, before moving to Jharkhand. Jaggi continued his youth career for the Eastern Indian team, moving up to Under-17s cricket and, two seasons later, Under-19s cricket.
Thanks to his performances, which included a hard-fought innings of 115 in the quarter-final of the 2006-07 Vinoo Mankad Trophy, Jaggi was offered his first two List A appearances the following month, in the first match of which he contributed a fifth-ball duck.
At the back end of the following season, Jaggi made five further List A appearances, four in the Vijay Hazare trophy. Jaggi's first-class debut followed at the start of 2008-09, against Jammu and Kashmir. Batting in the upper-order, he scored 58 in the first innings in which he batted, and an unbeaten 71 in the second - securing two half-centuries on debut.
Jaggi made his debut century in his second match, against Haryana.