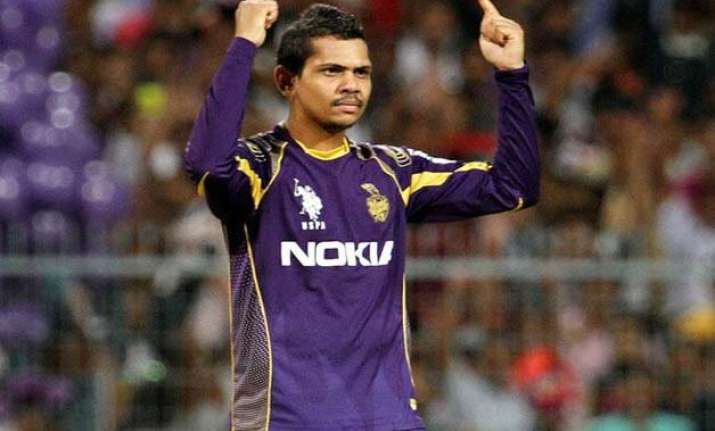 New Delhi: With the eighth edition of Indian Premier League just 8 days away, the first controversy has already hit the tournament. Defending champions Kolkata Knight Riders (KKR) are set to get into a legal battle with the BCCI regarding the participation of their star spinner Sunil Narine, according to a report.
In 2014, Narine was banned from playing for his suspect bowling action during the Champions League Twenty20, and was therefore barred from playing in the final match against Chennai Super Kings (CSK), which the KKR lost.
Following that, Narine was dropped from West Indies' tour of India in November and then, the mystery spinner himself opted out of the 2015 World Cup.
Narine went back to the nets to rework on his action and was cleared by the ICC after his bio-mechanical test in Loughborough.
According to a report in the Mumbai Mirror, BCCI refused to accept the ICC report and has insisted that the off-spinner from Trinidad has to undergo another round of testing at the Sri Ramachandra University in Chennai.
Shah Rukh Khan owned KKR is now contemplating legal action against BCCI and might pull of the upcoming edition. The franchise officials have pointed out that since Narine was cleared by the ICC, he shouldn't be forced to undergo another one. The team has also alleged the BCCI of 'targeting' their star spinner.
KKR also said that Narine was not hauled up for 'chucking' during the IPL but his action was suddenly found illegal in the CLT20.
The BCCI president's office has confirmed that a decision would be taken regarding this matter in the next few days. KKR chief executive officer Venky Mysore, however, has denied the reports about KKR speaking to the BCCI chief.
In an another development, KKR have roped in former Pakistan all-rounder Azhar Mahmood and former South African off-spinner Johan Botha as replacements for the injured New Zealand all-rounder James Neesham and Australian batsman Chris Lynn.
The tournament is set to kick off at Eden Gardens, Kolkata when KKR will face Mumbai Indians on 8th April.