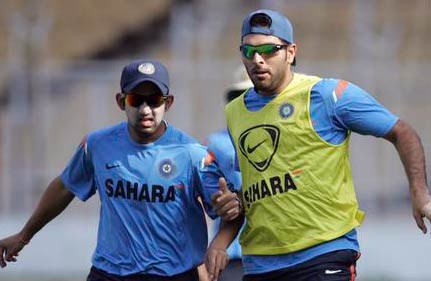 Guwahati, Nov 27: Pleading with the media to be lenient on Yuvraj Singh, India captain Gautam Gambhir today strongly stood behind the stylish Punjab batsman who has been under constant scrutiny and immense pressure.
Terming Yuvraj as the one of the best match-winners India has produced, Gambhir said, "We are just making too much of Yuvraj Singh. We are trying to scrutinise him too much -- what he is doing and not doing. Give him some time, let him be what he is. He is such a great player. Be a little lenient on him and don't try to scrutinise him too much."
Yuvraj's poor form also saw him demoted to Grade B in the annual contract list this year but Gambhir said that 'he is a quality player'.
"He has played a lot of international cricket and he knows what he has to do. He is a quality player. India never had such a match-winner, the amount of matches he has won for the team is incredible.
"Doubting his abilities is not the right thing. He is the biggest match winner India ever had at his batting position. He already has a half-century to his name in the last ODI (against Australia in Visakhapatnam) he played and has done decently in Dambulla as well. It's just about playing one big innings and then he is back to his best," said Gambhir.
"He did fielding with me and did it with the same intensity as any other player. You can't just keep thinking why he is not fielding, practising with the same intensity."
Yuvraj had a disappointing year so far that saw battling injuries, patchy form, with juniors going past him to even taking a pay cut as he was relegated from Grade A to B by the BCCI's Gradation Committee.
Handed the captaincy baton with seniors including Mahendra Singh Dhoni given rest before the World Cup, Gambhir also defended
Suresh Raina
who had a poor run in the recently concluded three-Test series.
"You can't compare Test with One-day cricket. He has done brilliantly in one-dayers. Both the forms are completely different. If you see his last match, he has won the match against Australia," Gambhir said recalling about Raina's 71 not out against Australia in Visakhapatnam -- the only ODI played in the three-match washed out series.
"He has played a lot of cricket as Mahi (Dhoni) has said. There will be ups and downs in everybody's career. You need to give your players some time, need to show confidence in them," Gambhir said. PTI