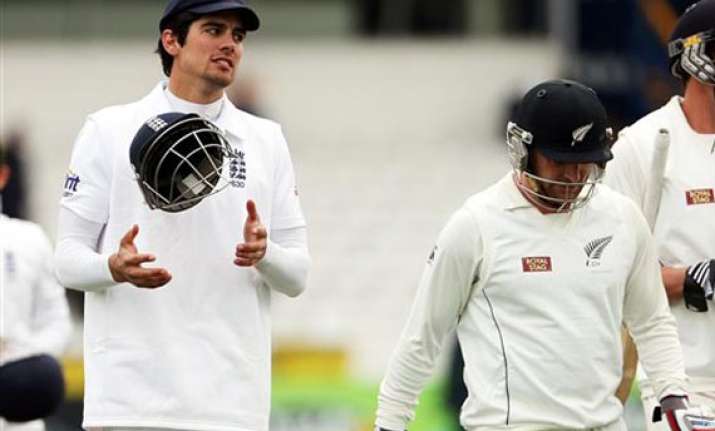 Leeds, England,May 28:  England beat New Zealand and the rain at Headingley on Tuesday, winning the second test by 247 runs on the last day and the series 2-0.
After a second delay for rain, the English inevitably picked up the last two wickets to dismiss the Kiwis for 220 in midafternoon in front of a crowd of 300.
Spinner Graeme Swann took two of the last four wickets on the final day to take 6-90 and achieve a match haul of 10-132, the third 10-for of his career and first in England. He came to Headingley without having taken a test wicket at the ground and was named man of the match.
England won the series by stumps on Sunday when they put the chase score beyond reach of the Kiwis. The only question on Tuesday, if the rain didn't force a draw, was how big the win would be.
Headingley big.
England has beaten the Kiwis five times in eight matches at the ground and none of them were close.
The Kiwis' hopes of celebrating the 30th anniversary of their one win on the ground—the famous first over England in England—never materialized, as they were on their knees for almost the entire match which was shortened to four days of play after the first day was washed out. Even so, the hosts could have delivered the coup de grace on Sunday but didn't enforce the follow-on.
Instead, they batted past lunch on Monday and posted an untouchable winning target of 468, 19 more than New Zealand scored in its first three innings of the series combined.
The Kiwis clung on to stumps on Monday and hoped rain would save them on Tuesday, but despite two delays for rain, there was enough breaks for England to kill them off in a combined 21.5 overs.
Skipper Brendon McCullum bore an extra burden, as the last recognized batsman, to help his side play out for time and pray for rain to force a draw.
But after getting off the mark with a single he lasted only 13 minutes before driving straight back to Stuart Broad, who made a great two-handed catch to his left at shoelace height.
McCullum has been symptomatic of New Zealand's batting woes in England. A scorer of three half-centuries against the same team at home in March, he's totaled 31 in this series.
Doug Bracewell joined
Tim Southee
and the pair made light of the deep, dark hole New Zealand was in by smacking England for 56 runs off 41 balls, as if they were preparing for the three-game, one-day series starting on Friday.
Southee was dropped on 24 off Swann by Jonathan Trott at slip, but the damage was minimal. Swann and Trott combined to get him for 38, double his test average, ending a 52-minute cameo including two sixes and four boundaries.
The rain came back six minutes later for an early lunch, and 2 ½ hours later they were back out.
Bracewell's 45-minute stand ended with a pad-bat catch to Ian Bell at silly point for 19, giving Swann his 10th wicket.
Trent Boult
came out, nursing the side strain that had kept him from the field since late Sunday. Because of his injury, he and Neil Wagner didn't try to score, merely batting away the ball and letting England chase. When Swann couldn't get him, fast bowler James Anderson was introduced and his third ball ended the match when he got Boult to edge behind.
It was New Zealand's ninth defeat in its last 10 tests away from home in the last 10 months.