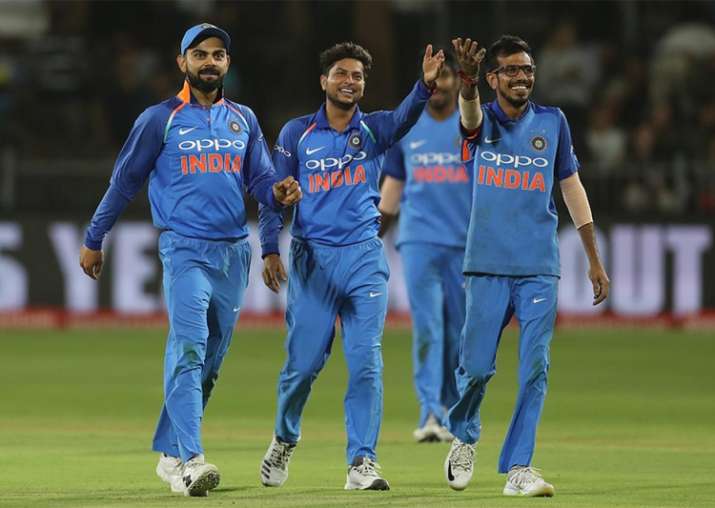 Former India opener Virender Sehwag has credited wrist spinners Kuldeep Yadav and Yuzvendra Chahal for Team India's historic bilateral ODI series victory in South Africa. Sehwag said this was probably the first time that two bowlers have come out as the architects of India's victories overseas. The 39-year-old Sehwag, who is India TV's Cricket Expert, said both Kuldeep and Chahal broke the spine of the South African team and never allowed the hosts to make a comeback in the series.
"It is not an easy task to beat South Africa in South Africa. It is a big achievement for India. Kuldeep Yadav and Yuzvendra Chahal are the biggest positives for India in the ODI series. What Anil Kumble and Harbhajan Singh couldn't do, Kuldeep and Chahal have done it," Sehwag said on "Cricket Ki Baat" show.
"This is probably the first time where India have found two match-winning bowlers out of an ODI series. Earlier, we used to discover new batsmen. Kuldeep and Chahal should definitely get the credit," he added.
India won a one-day series in South Africa for the first time, clinching a piece of history with a 73-run victory in the fifth game on Tuesday to lead 4-1 in the six-match series with one match to go.
India's win was set up by 115 from opener Rohit Sharma - his first significant score of the tour - and sealed by wrist spinners Kuldeep Yadav and Yuzvendra Chahal, the standout bowlers in the series and constant thorns in the side of the South African batsmen.
India's first success in an ODI contest in South Africa also came with a game to spare. The tourists could stamp their dominance even further with a potential 5-1 win over the team that was ranked No. 1 at the start of the series. India are now top-ranked in ODIs and there's no doubting that after this performance. India have won nine straight series, and last lost one in Australia in early 2016.
India's series win was built on two key areas. The top three of Sharma, Shikhar Dhawan and Kohli contributed four centuries, three half-centuries and nearly 900 runs between them in the five games. And Kuldeep and Chahal completely controlled proceedings with their slow bowling to share 30 wickets in five matches.
Sehwag also praised captain Virat Kohli and said that his confidence level has improved after he became the captain.
"Virat Kohli's performance has got better after he became the captain. This shows the amount of confidence he has got," he said.
When asked if Kohli was the best Indian captain ever, Sehwag refused to come to a conclusion so early. He, however, said that Kohli is an upgraded version of former skipper Sourav Ganguly.
"Virat Kohli's aggression can be compared to Sourav Ganguly. He is the upgraded version of Ganguly," he said.
Following the disappointment of losing the first two Tests of the tour and the series 2-1, India have bounced back to win five of the last six games between the teams in all formats.
That's more like the standard of performance expected of an India team that arrived in South Africa at the end of December with a big reputation under Kohli, arguably the best batsman in the world across all forms of the game.
Sehwag, fondly called the "Nawab of Najafgarh", also dispelled doubts over Hardik Pandya's capabilities as an all-rounder even as the Baroda lad failed to live up to the expectations in the ongoing ODI series.
In the five matches played so far, Pandya has scored just 26 runs with a poor average of 8.66 and has taken just three wickets.
"Hardik Pandya is India's future. He has got the talent and if I was there in place of Virat Kohli, I would have definitely backed him. He can grow up to be one of India's biggest match-winners in future," Sehwag said.