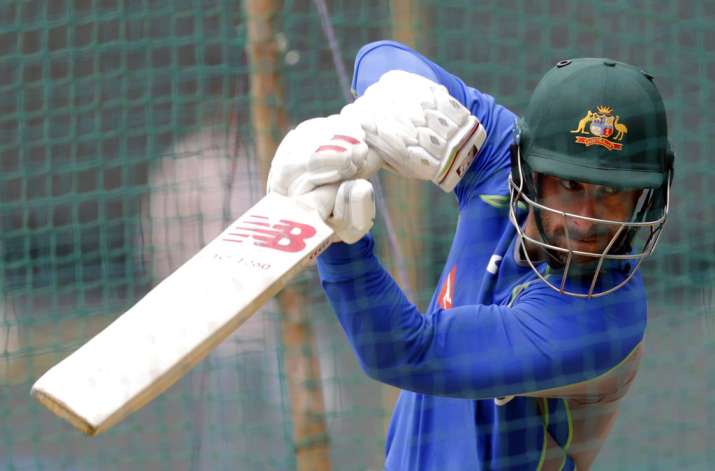 Under-fire Australian wicketkeeper-batsman Matthew Wade has been told by the selectors to raise his game as he competes for the Ashes spot with Peter Handscomb. Wade's struggle with the bat in Bangladesh have continued in the ongoing series against India as well, and he was dropped from the third ODI in Indore. 
On the other hand, Handscomb, while playing as a specialist batsman, was amongst the runs in Bangladesh and has also shown decent form in India. 
Wade had no hesitation in admitting that he has not been good enough of late. 
"I probably have not scored enough runs," said Wade ahead of the fifth and final ODI. 
"My performance has been summed up by me getting dropped in the third game, so there is no point sitting up here and thinking about what has already happened, my form with the bat has not been good enough. The selectors have told me that I need to score runs if I need to be picked." 
However, he insisted that his lean run of form with the bat had nothing do with the sub-continental conditions. 
"A lot has been made about me failing in Bangladesh and couple of times here but before also I played in India I was batting really well. I would have liked to score more runs in this series but that has not happened. 
"If I go back to the way I was batting in India (during the Test series earlier this year) I played quite well. It is not panic stations yet and I know what I have to do," he said. 
However, Wade feels he has not done much wrong behind the stumps. 
"I thought I kept quite well in Bangladesh. I know there was a lot of talk, especially during the first Test with the number of byes I conceded but if you look at their keeper and given the conditions, I thought we were quite similar. 
"I felt, in the second Test especially, I took some good chances. I have been pretty good here. I felt I kept quite well. Selectors have told me there have been no concerns with my keeping, they just want me to score more runs," said Wade. 
He will be playing three Sheffield Shield games after he returns home and those will be crucial for his selection in the upcoming Ashes. 
"They will be crucial for my chances. I'm not worried about the matches, I have to score runs anytime I have to go bat. I have to score runs regardless of if I'm trying to score runs for the Ashes or getting picked for Australia or whoever I'm playing for at the time." 
Australia are down 1-4 in the series with the final ODI scheduled tomorrow and Wade said it was important to sign off on a high. 
"We need to play well on the road in the ODI format so the final match is important to us. There has been plenty of talk about our record away from home, so it was nice to get that monkey off the back with a win in the last match (fourth ODI) that can hopefully get some momentum going forward. 
"This is a new team and it will be nice to get some wins under our belt and get some continuity. It will be nice to play 5 or 6 or 7 matches with a similar looking team. Our players have not performed well enough, myself included. It will be nice to finish here with a win and then lead into the Australian summer," said Wade.