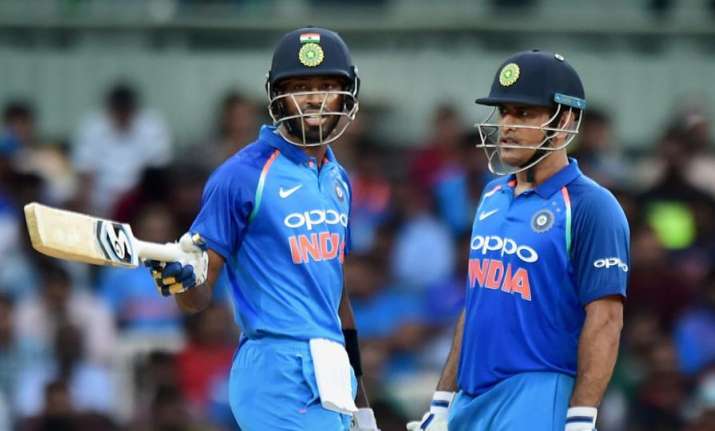 Former India captain Krishnamachari Srikkanth feels that MS Dhoni and Hardik Pandya have not justified their roles as batsmen in the lower-order as these two are the players who the team look up to when the times are tough. Dhoni and Pandya's consistency has been a major concern for the team as their strike rate with the bat has not been impressive, but Srikkanth feels that the duo can hold on and help in building a better score in the limited overs format when the team needs to project a strong total or chase big targets.
In his column for The Times of India, Srikkanth wrote that it has been a one-man show from captain Virat Kohli, and besides him and his partnership with Shikhar Dhawan, the team has very little to put forward.
Srikkanth mentioned that 36-year old Dhoni hasn't been able to drive his shots the way he did in the past, however, the former captain and Pandya couldn't have been provided with a better opportunity to diminish the criticism that they have been facing in recent times as they can help in building a massive score for India after the top and middle order batsmen do their respective job.
"This series has so far been all about Virat Kohli and one significant partnership with him in the middle (last three with Dhawan). Once you take those numbers out, there is little else to show. Constant chopping and changing of personnel and the batting order is not helping the team's cause either. Dhoni failed to accelerate as he has in the recent past. The former captain and Hardik Pandya could not have hoped for a more solid platform to launch an attack and get India to a massive score," Srikkanth wrote in his column.
Srikkanth feels that Rohit Sharma, Dhoni and Pandya's contribution should increase as all of them play an influential role in the team.
Srikkanth said Rohit's poor form is a big concern for the team and that the opener is missing out on some good opportunities to score runs.
"Going into the fifth game, I can only hope this is a temporary setback for the visitors. The form of Rohit Sharma is a big concern and so is the strike rate and consistency of Dhoni and Pandya. Rohit is too good a player in this format to be missing out, especially in proper batting conditions. The batting unit has to click collectively for the team to be ruthless. I am confident of the bowlers coming back strongly. In an ideal scenario, the series should not be allowed to slip into the final ODI," concluded Srikkanth.