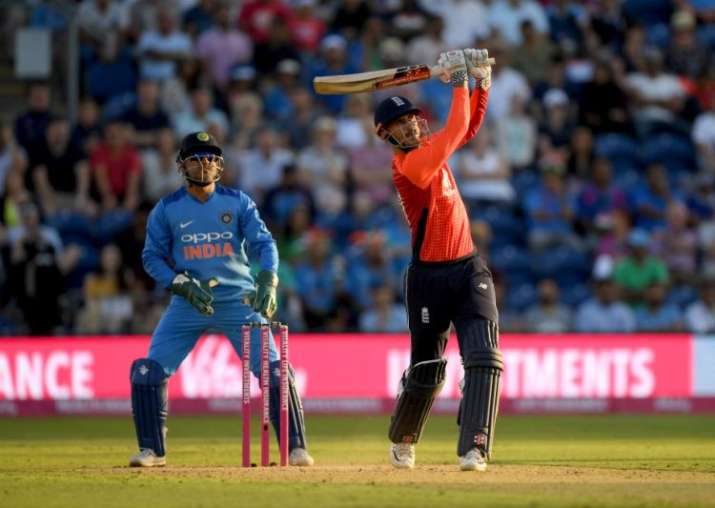 Highlights, India vs England 2nd T20I Cricket Match: 
We have a decider then! Willey did hit the winning runs but it was Hales who was the hero for them with an unbeaten half ton. He walks off to a standing ovation by his teammates and he deserves every bit of it. After bowling out India for a decent total. England got off to a flying start as Roy plundered 14 from the first over. At that time, it looked like the hosts would run away with the game but it wasn't to be. Umesh Yadav struck twice in the Powerplay sending back both the openers. Chahal then struck in his first over and England were in trouble at 44 for 3. Morgan and Hales then joined forces and started to rebuild the innings. The two played themselves in and ensured the required run rate was always in tact. The duo added 48 and the home side were cruising. But a brilliant catch by Dhawan then, once again brought India back into the game. (
SCORECARD
)
INDIA VS ENGLAND 2ND T20I HIGHLIGHS FROM CARDIFF:
01.37 IST: England (152/5) beat India (148/5) by 5 wickets to level three-match series 1-1 in Cardiff. Hales 58*, Umesh 2/36. Bhuvneshwar Kumar to David Willey, FOUR! That is it! Willey hits the winning runs! 4 balls is all it took for them to score the runs they needed in the last over. Slightly short on middle, Willey rocks back and pulls it through mid-wicket. The field was up and hence a boundary results. ENGLAND WIN BY 5 WICKETS AND LEVEL THE SERIES!
WHAT. A. FINISH! We win by 5️⃣ wickets in Cardiff to square the series! Bring on Bristol!

SCORECARD/VIDEOS: https://t.co/64uxhB2NdX#ENGvIND pic.twitter.com/gEx4Nl37KI

— England Cricket (@englandcricket) July 6, 2018
01.33 IST: FIFTY! Alex Hales hits his 8th T20I half-century off 39 balls. England 143/5 in 19.1 overs vs India (148/5) in Cardiff. SIX! Right in the slot and Hales has probably landed the knockout punch here. First boundary that Kumar has conceded. It is full and on middle, Hales clears his front leg and clears the straight boundary. He crosses his fifty with that. His job is not done yet. 6 more needed from 5 balls.
01.31 IST: FOUR! Much. much-needed! Excellent by Hales. He steps out and makes it into a full toss. He slaps it through covers and the ball races away. 13 more needed now from 8 balls. ENG 136/5 in 18.5 overs.
01.21 IST: David Willey is the new man in.
01.20 IST: OUT! Bhuvneshwar removes Bairstow for 28. The game is not over as Kumar and Kuldeep provide India a glimmer of hope! Jonny Bairstow falls in a similar manner as Virat Kohli. A short ball on the body of the batsman. Bairstow swivels and pulls it towards Kuldeep Yadav at fine leg. He comes running in and takes a sliding catch. Jonny though walks back after doing his job. 23 more needed in 17. England 126/5 in 17.1 overs vs India (148/5) in Cardiff.
01.16 IST: SIX! Bang! JB slogs this one powerfully over the square leg fence and earns a much needed six for his team. A flighted ball in line of the stumps, JB lines it up and pulls the trigger. The equation is down to 32 off 22 now. ENG 117/4 in 16.2 overs.
01.14 IST: Hardik Pandya to Jonny Bairstow, 2 runs. A couple to end the over! 39 more needed from the last 4. A seam up ball this time and on a fuller length on middle, Jonny goes for the heave but the ball goes off the inner half through mid-wicket for two. The fielder does score a direct hit at the bowler's end but the batsman is well in. ENG 110/4 in 16 overs.
01.04 IST: Jonny Bairstow is the new man in.
01.03 IST: OUT! Hardik Pandya removes Eoin Morgan for 17. Dhawan you beauty! What a catch, what a catch by him. He has plucked that out of thin air. The change of bowling has worked wonders for India. It is the short ball on the body of Morgan. He goes for the pull and he seems to have connected well. It looks like it will sail over the fielder at fine leg who is standing a touch inside. But no, he times his jump to perfection and takes a tumbling catch. Stands up and performs his trademark celebration. England 92/4 in 13.1 overs vs India (148/5) in Cardiff.
01.00 IST: FOUR! Swept and swept fine! On the pads, Morgan goes down on one knee and sweeps it all along the ground and through backward square leg for a boundary.
00.56 IST: SIX! THAT IS HUGE! AND DOMINATING! Boom boom goes Hales! 2 huge overs have now turned the tide towards England. 26 from the last 2 and England need 64 from 48. Another tossed up ball on middle, Hales lines it up and deposits it over the long on fence for a maximum. ENG 85/3 in 12 overs.
00.54 IST: FOUR! England now are on the charge! Morgan uses his feet and goes straight back over the bowler's head and gets another boundary. Runs starting to flow now.
00.52 IST: FOUR! Brilliant, brilliant from Hales. This time he uses the pace of the bowler. it is fired outside off. He guides it through short third man and another boundary results. 13 from the over, can Hales make it a 17-run or a 19-run over?
00.50 IST: SIX! How much did they need this? A lot! Chahal tosses this up outside off, Hales reaches out for it and slog sweeps it into the mid-wicket stand. 83 more needed.
00.43 IST: Kuldeep Yadav is into the attack.
00.42 IST: 6 from the over. ENG 55/3 in 9 overs. Yuzvendra Chahal to Alex Hales, 1 run. The batsman tries to sweep, gets a top edge on that one. One run added to the total.
00.32 IST: Eoin Morgan is the new man in.
00.31 IST: OUT! Chahal removes Root for 9. TIMBER! Chahal strikes in his first over. He removes the batsman who could have possibly been the one who could have anchored the run chase for England. The googly does the trick. It is tossed up outside off, Root may have picked it as he goes for the sweep shot with the turn. He though misses. The ball turns back in and hits the off stump. England three down and now are in trouble. They need another 105 in 79. England 44/3 in 6.5 overs vs India (148/5) in Cardiff.
00.27 IST: FOUR! Another shortish delivery in line of the stumps, Hales moves back a touch and hoick it up and over to the mid-wicket fence. He has timed it well and as a result, he gets a boundary of the last ball of the over. 7 runs came of the over. ENG 42/2 in 6 overs.
00.25 IST: Alex Hales is the new man in.
00.24 IST: OUT! Umesh Yadav removes Buttler for 14. Virat Kohli takes it this time and let me tell you this is a tougher chance than the one he dropped. How delighted he is? Well his celebration shows it all. The big fish, Buttler departs cheaply, a rare failure for him. Yadav is the man once again, we saw how good he was in the Indian T20 League in the Powerplays and he is continuing the good work here. This is slightly shorter than the last two deliveries. Buttler once again tries to clear mid off but this time to he fails to get the desired elevation. Kohli there runs to his right and takes it. Both the openers are back in the hut and India are right back into the game. England 33/2 in 5 overs vs India (148/5) in Cardiff.
00.22 IST: FOUR! This is like rubbing salt in the wound! Dropped on the last ball and a boundary on this one. Full and on off, Jos takes the aerial route. This time he clears mid off for a one bounce boundary.
00.20 IST: Jos Buttler dropped! Who is the culprit? The Indian skipper, Virat Kohli. A life for Buttler. If there is one batsman you do not want to give a reprieve to in this English batting line-up, it is Buttler. Umesh bowls it full on off, Jos moves his left leg out of the way and tries to clear mid off but does not get the elevation. Kohli there jumps and tries to take it reverse cup but fails to hang on. How costly will this prove?
00.13 IST: FOUR! What a shot to conclude the over. Lovely shot to end the over. Pure timing! Full and on off, Buttler shows the full face of the bat and drives it through mid off for the second boundary of the over. SO Umesh does have a wicket to his name but has been expensive in his 2 overs. ENG 25/1 in 3 overs.
00.12 IST: FOUR! Just over! On the shorter side once again by Umesh. Buttler this time rocks back and pulls it just over the fielder at mid-wicket. There is no stopping once it beats the fielder inside the ring.
00.11 IST: Joe Root makes his way out to the middle.
00.10 IST: OUT! Umesh Yadav removes Roy for 15. BOWLED 'EM! Got him in the first T20I and now gets him in the second. Umesh Yadav has the last laugh and he draws first blood. Brilliant by him, he bowls a pacey delivery which pitches on off and then jags back in sharply. Roy does not account for the inward movement as he tries to keep it out with a gap between bat and pad. The ball sneaks through and hits the middle stump. The Indians are ecstatic as they have got the dangerous Roy early. England 16/1 in 2.1 overs vs India (148/5) in Cardiff
00.04 IST: SIX! BANG! Roy finishes the over with a biggie. 14 from the first one. England off to a flier.Slightly short on middle, Roy once again picks the length up early. He rocks back and sends it sailing over the mid-wicket fence.
00.02 IST: FOUR! Second boundary of the over! This though could have been stopped. Poor effort by the fielder at square leg. On the pads, Roy works it towards that region. The fielder there dives over the ball and then there is no stopping that. ENG 8/0 in 0.4 overs.
00.01 IST: FOUR! Slightly short and on middle. Roy picks the length early and pulls it through square leg for a boundary. Fantastic shot to get off the mark.
23.59 IST: We are back for the chase! Out come the English openers, Jos Buttler and Jason Roy. If they provide a similar start to the one they provided in the last game, then England should chase this down easily. India, on the other hand, will begin with Umesh Yadav. 
23.40 IST: India score 148/5 in 20 overs against England in Cardiff. Kohli 47, Dhoni 32*, Plunkett 1/17. FOUR! Short and middled! Ball persisted with the same length again but MS is up to it. He swivels and powers it through the square leg fence. The fielder at fine leg did made an attempt to get near it but the speed on the ball evades him. 22 runs came off the last over as India ends up with 148/5.
Innings Break!

22 runs in the last over propels #TeamIndia to a total of 148/5 in 20 overs at Sophia Gardens, Cardiff https://t.co/xKUX0VdLRK#ENGvIND pic.twitter.com/c93FJwC9Qr

— BCCI (@BCCI) July 6, 2018
23.38 IST: FOUR! Dhoni is trying to push Indiato a respectable position. Slapped! A bumper around off, Dhoni hangs back in his crease and pulls it straight past the bowler. The ball races to long on boundary. This over has brought some happiness for India.
23.35 IST: FOUR! Dismissed! A shortish ball around off, Dhoni just stays it from his crease and gets it past the fielder at mid-off. A boundary results. IND 132/5 in 19.2 overs
23.32 IST: SIX! Bang! This game is all about a few inches. Jordan understands that now. He looks to bowl another yorker but misses it by inches. Pandya gets under it and puts it way back into the long on stand for a maximum. IND 124/5 in 18.5 overs.
23.25 IST: Hardik Pandya is the next man in for India.
23.24 IST: OUT! Willey removes Kohli for 47. What a catch from Root to send the Indian skipper packing. He was looking dangerous. A back of a length delivery on the hips from David, Kohli swivels and pulls it fine. The ball goes in the air and Root at fine leg takes a greta diving forward catch. What a moment to pull off a blinder. India reeling at 111/5 with just 17 balls to go in the innings. India 111/5 in 17.1 overs vs England in Cardiff.
23.21 IST: SIX! Shot! WOW! Just a mere flick of the wrists from Virat. A gentle full toss on the pads, Kohli hangs back in his crease and nonchalantly gets it up and over the square leg fence and into the crowd. India needs a lot more of these. IND 110/4 in 46.4 overs.
23.16 IST: 100 up for India. David Willey to Virat Kohli, 2 runs. On the pads once again from David, Kohli flicks it to square leg and two runs are taken. IND 101/4 in 16 overs. 
23.12 IST: FOUR! And the helicopter is out. A tossed up delivery in line of the stumps, MS hangs back in his crease and just whips it from there The ball goes uppishly but in the gap between mid-wicket and long on.
23.10 IST: MS Dhoni joins the ranks of Sachin Tendulkar, becomes second Indian to play 500 International matches. (Read full story)
23.06 IST: FOUR! Talk about piercing the gap to perfection. Dhoni has done exactly that. It is a nothing delivery. Short and on middle, too easy for Dhoni as he rocks back, rolls his wrists over the ball and pulls it between fine leg and deep backward square leg for a boundary.
23.02 IST: MS Dhoni comes to the crease.
23.01 IST: OUT! Adil Rashid removes Raina for 27. Gone! Rashid has the last laugh. A loopy googly on off, Raina comes down the track and misses the line of the delivery. Jos behind the wickets removes the bails to send Raina packing. A 57-run partnership is broken by the leg-spinner. India 79/4 in 12.2 overs vs England in Cardiff.
22.56 IST: SIX! BANG! What a shot! Ball bowls a bumper around leg, Raina plays the full-blooded pull and clears the mid-wicket fence quiet easily. The left-hander gets into the act as well.
22.55 IST: Jake Ball is into the attack.
22.52 IST: SIX! A massive one and the comes off the keeper. Brilliant from Virat! He gets another floated ball in line of the stumps, lines it up and flat bats it down the ground. Jason Roy at long on runs to his left and reaches the ball in time, however, he fails to hold onto the catch. The decision is taking to the third umpire and a maximum is given. 15 runs taken off Adil's second over. Virat is accelerating now. IND 64/3 in 11 overs.
22.51 IST: FOUR! Kohli slams that for a boundary. A sight for sore eyes. A loopy delivery around off, Kohli hoick it across the line and evades the fielder at short mid-wicket. The ball races to the mid-wicket fence. IND 57/3 in 10.5 overs.
22.46 IST: Back of a length in line of the stumps, Raina moves across his stumps, hops and works it towards square leg for a run. IND 55/3 in 10.2 overs
22.40 IST: Plunkett is brought into the attack. India plat it slow as the wicket is surprising the Indians at the moment. A smart move by the Englishmen to play one spinner at Cardiff. 
22.35 IST: A touch short in length, Virat punches it off the back foot into the deep. The open vacant region towards square leg allows them to take two.
22.26 IST: FOUR! But still just 5 from the over! Just like the other five deliveries, this too is on the shorter side. Raina backs away and flat-bats it. It is not from the middle but still enough to clear the man at mid on and the ball races away for a much-needed boundary. IND 38/3 in 6.6 overs
22.27 IST: OUT! Liam Plunkett removes KL Rahul for 6. Too adventurous perhaps. A length in line of the stumps. Rahul moves away from the stumps to make some room but misses it altogether. The ball crashes into the stumps and goes over the keeper head. England rejoice as India lose another. IND 22/3 in 4.5 overs
22.24 IST: OUT! Gone! What a tame end. It's almost childish from Shikhar. Liam balls a short ball in line of the stumps, Dhawan looks to pull but gets hit in his elbow. The ball rolls to point where Roy runs in fast to throw the ball at non-strikers end. Morgan whips the bails but he isn't looking sure. However, the umpire goes to the third umpire. And the replays shows that Dhawan lost his bat before dragging it in. He should have been more careful. IND 22/2 in 4.2 overs
22.19 IST: FOUR! Streaky! Short and pulled by Dhawan. The ball goes to Hales at square leg but it makes a mess of it. Which should have been a single ends up being a four. Dhawan won't be complaining though. IND 21/1 in 3.5 overs 
22.15 IST: Willey is moving the ball nicely. A fullish delivery on middle and leg, Dhawan looks to flick it but misses. The ball hits him on his pad and the bowlers appeals straightaway. The umpire is not interested. IND 14/1 in 2.2 overs
22.11 IST: KL Rahul is the next batsman in.
22.10 IST: OUT! Jake Ball removes Rohit for 5. In the air... and gone! He never looked comfortable. Ball has his first with a shortish delivery. He angles this into the body of the batsman who goes for the pull but the gets more height than distance. It goes high in the air and Jos completes the catch behind the wicket. India lose their first and England are having a 'Ball' with the ball. India 7/1 in 2 overs vs England in Cardiff.
22.08 IST: FOUR! Rohit starts his game here. Rohit goes after the 'Ball'. A driveable ball outside off, Sharma throws his bat at it and pierces the gap between covers and mid off for his first boundary.
22.06 IST: Jake Ball is into the attack from the other end.
22.05 IST: Just one run from the over. Great start by Willey. David Willey to Shikhar Dhawan, no run. Full on leg, Dhawan comes down the track and punches it straight to mid off for nothing. Good over from Willey first up.
22.00 IST: We are ready. The players are out in the middle. Shikhar Dhawan and Rohit Sharma is the opening partnership for India. While the left-arm pacer David Willey will take the new ball for England.
21.55 IST: India Playing XI: Shikhar Dhawan, Rohit Sharma, Lokesh Rahul, Virat Kohli (c), Suresh Raina, MS Dhoni (w), Hardik Pandya, Bhuvneshwar Kumar, Kuldeep Yadav, Umesh Yadav, Yuzvendra Chahal
21.50 IST: England Playing XI: Jason Roy, Jos Buttler (w), Alex Hales, Joe Root, Eoin Morgan (c), Jonny Bairstow, David Willey, Liam Plunkett, Chris Jordan, Adil Rashid, Jake Ball
21.45 IST: The India captain, Virat Kohli starts by saying he would have bowled first as well. The track looks good and the pressure is on England to win this one. The idea was to let them play the spinners first and analyze what to do. Adds that they are playing fearless cricket, they are young side and we are they are enjoying each others company. Further adds that its a challenge to play on smallish ground for the spinner, its a challenge to their character and he hopes they come good once again.
21.40 IST: The England captain, Eoin Morgan says that he is looking to bowl first and put the pressure on India. Asserts that he would like to chase on a small ground. Adds that Jake ball makes his debut in this game and replaces Moeen Ali in the playing XI. Further adds that they need to get into their own and give it all as it is a must win game for them. Ends by saying that its a contest between seam bowling and spin bowling.
21.32 IST: England win toss, opt to bowl vs India in Cardiff. The visitors lead three-match series 1-0.
England wins the toss and elects to bowl first against India.#ENGvIND pic.twitter.com/dsnuN3bYMg

— BCCI (@BCCI) July 6, 2018
21.28 IST: Jake Ball is set to make T20I debut for England.
Congrats @JakeBall! 👏👏

FOLLOW: https://t.co/i8dyTh45AU#ENGvIND pic.twitter.com/QnFeFwjnnL

— England Cricket (@englandcricket) July 6, 2018
21.20 IST: "Always a great atmosphere at our matches against India," says England Cricket.
Always a great atmosphere at our matches against India!

More dancing in the pipeline, @BumbleCricket?? 😂https://t.co/YY6SwSInij#ENGvIND pic.twitter.com/TO1kyaR3nL

— England Cricket (@englandcricket) July 6, 2018
21.15 IST: India look all geared up for the 2nd T20I against England.
The boys look all geared up for the 2nd T20I against England.

Will they go up 2-0 today in the three-match T20I series?#ENGvIND pic.twitter.com/I2VwhOWCK6

— BCCI (@BCCI) July 6, 2018
21.10 IST: The pitch at the Sophia Gardens is ready for the thriller.
Take a look 👀 at the pitch for the game.

Thoughts?#ENGvIND pic.twitter.com/vT6q3bLsZl

— BCCI (@BCCI) July 6, 2018
21.00 IST: Here are the teams for India vs England, 2nd T20I in Cardiff.
India: Virat Kohli (c), Shikhar Dhawan, Rohit Sharma, KL Rahul, Suresh Raina, Manish Pandey, MS Dhoni (wk), Dinesh Karthik, Yuzvendra Chahal, Kuldeep Yadav, Krunal Pandya, Bhuvneshwar Kumar, Deepak Chahar, Hardik Pandya, Siddarth Kaul, Umesh Yadav
England: Eoin Morgan (c), Moeen Ali, Jonny Bairstow, Jake Ball, Jos Buttler (wk), Sam Curran, Alex Hales, Chris Jordan, Liam Plunkett, Adil Rashid, Joe Root, Jason Roy, David Willey, Dawid Malan
Brief preview:  A dominant opening win has set the tone and India would look to ensure that a spin-wary England remains on the back-foot when the two sides clash in the second T20 International, in Cardiff. India stand on the cusp of a sixth successive T20I series' win -- a run stretching back to their 2-1 win over New Zealand at home in November 2017. In all, they have been unbeaten in bilateral T20I series since September last year.
In terms of ICC Rankings, a 2-0 series' lead will allow India to close the gap with second-placed Australia, while a 3-0 whitewash will push them to second behind top-ranked Pakistan. Australia will have to win both their next two games in the ongoing tri-series in Zimbabwe to stay above India. A loss on Friday will see England drop down to rank seven below New Zealand, South Africa and West Indies, respectively. (Read full match preview)