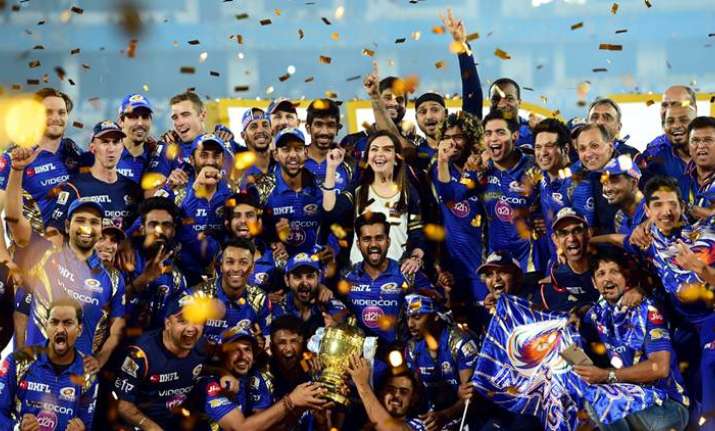 Good news for the Indian cricket fans as Doordarshan and Star India have reached an agreement and will now telecast the Indian Premier League 2018 matches starting April 7. However, the matches will be deferred by one hour on Doordarshan. Star India acquired the media rights of the Indian Premier League for five years in an auction in September last year. 
The cash-rich 2018 IPL tournament is scheduled to begin on April 7, the opening match will be played between defending champions Mumbai Indians and Chennai Super Kings at the iconic Wankhede Stadium. The final of the tournament will be played on May 27.
As per an Economic Times' report, it is said both Prasar Bharati and Star India have agreed on revenue sharing, and it will enable Doordarshan to show IPL 2018 matches. The major bone of contention in the deal was the revenue sharing, with Star India earlier demanding the 75:25 share ratio in its favour.
However, after months of negotiations, the talks have reached a logical conclusion and both Prasar Bharati and Star India will share the revenue generated in 50:50 ratio.
Star India bagged the IPL media rights for Rs 16347.5 crore for next five years. In an intense bidding war, Star pipped Sony Pictures Network and other 13 contenders to pocket India broadcast, India digital and the rest of world broadcast and digital rights for the cash-rich T20 league from 2018-2022. With the 11th edition of IPL to get underway on April 7, the BCCI and broadcasters Star are yet to get a mandatory uplink permit from the government.
BCCI acting Secretary Amitabh Choudhary wrote a letter to the Ministry of Information and Broadcasting Smriti Irani on Wednesday night, "We're given to understand that the permission has not been granted yet. Given that we're close to the event, we request your kind intervention in ensuring that the permission is granted urgently to ensure that our Indian audiences are able to view and enjoy the event and to prevent significant commercial losses to the parties involved."
The letter also adds: "The Event is scheduled to commence on April 7, 2018, and we understand Star India Private Limited has made a compliant application to the Ministry of Information and Broadcasting for permission for temporary live uplinking of the Event from 06 April 2018."