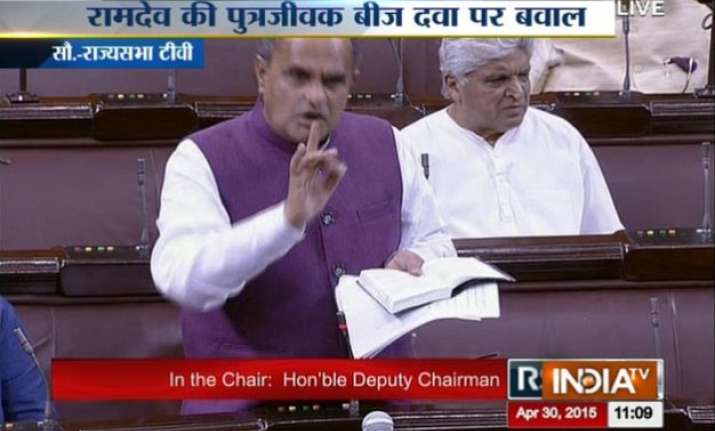 New Delhi: A demand to ban a purported ayurveda product by yoga guru Ramdev's Divya Pharmacy that promises a male child was made in Rajya Sabha today, with Opposition members terming it as illegal and unconstitutional and seeking stringent action against the manufacturers.
When the House met for the day, K C Tyagi (JD-U) showed a a packet called 'Putrajeevak Beej', which he claimed to have bought from Divya Pharmacy that promised the delivery of a male child.
He also displayed a copy of the purchase receipt dated April 14 and said sale of such products by "the Brand Ambassador of Haryana" was illegal and unconstitutional.
Also Read: Is Ramdev's 'Divya Putrajeevak Beej' misleading people aspiring to have a baby boy?
Without naming the yoga guru, he asked "if the Government of India under the dynamic leadership of Prime Minister Narendra Modi approves of this."
Amid protests from treasury benches, Jaya Bachchan (SP) took the packet and gave it to Health Minister J P Nadda.
Several opposition members joined in condemning sale of such products and demanded action.
Deputy Chairman P J Kurien said sex selection by a medicine or even pre-natal sex determination was against the law and the Constitution, but the Chair cannot do anything about it.
With Opposition members pressing for stringent action, Nadda said the issue is related to the Department of Aayush. "The Government will look into it and proper action will be taken."
Nadda said the issue was very serious and he has just been given a packet of the product.
"Government is very serious on sex-ratio," he said, adding that the Prime Minister was personally monitoring the 'Beti Bachao, Beti Padao' campaign.
This did not satisfy the members with Tyagi pulling out more packets, which inquisitive members took turns to look at.