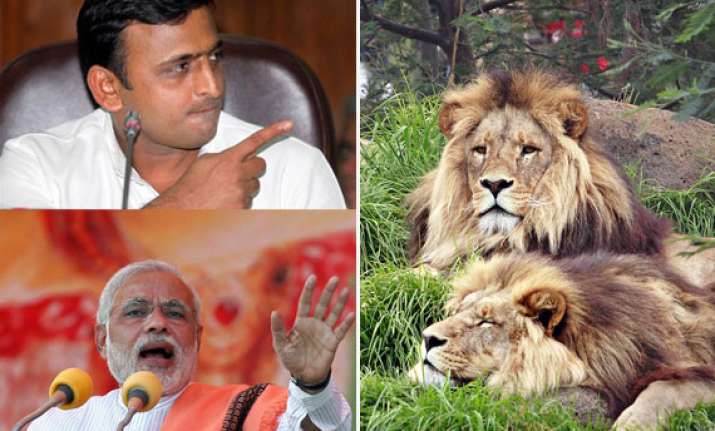 Bareilly/Lucknow: BJP Prime Ministerial candidate Narendra Modi and Uttar Pradesh Chief Minister Akhilesh Yadav were on Tuesday involved in a catfight over lions.
The lions were at the heart of a roaring debate when Modi took a dig at Akhilesh during his rally in Bareilly in Uttar Pradesh, saying that his government was unable to handle lions from Gujarat.
The Gujarat Chief Minister also invited the Yadav family to visit his state to see how the lions at the Gir National Park roamed freely.
"Your chief minister was asking us for lions. We gave them lions. We had hoped they may draw some strength from seeing the lions. But they could not handle the Gujarat lions. The lions had to be caged.
Netaji, your son, your daughter-in-law, your brother, please come to Gir forests and see how lions roam freely," Modi told the rally. Samajwadi Party supremo Mulayam Singh Yadav, who is Akhilesh Yadav's father, is often called 'Netaji' by his supporters.