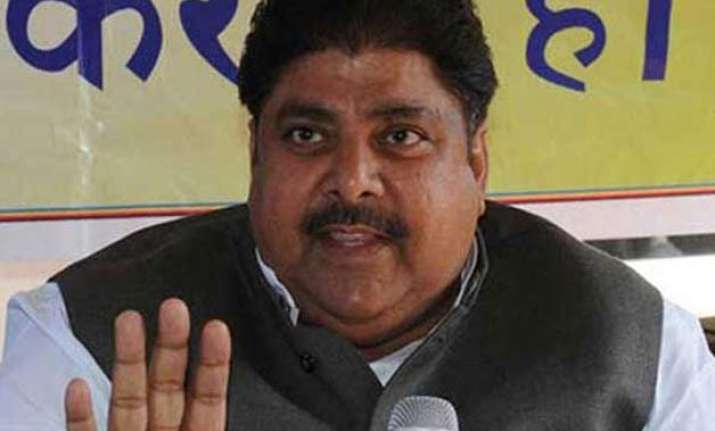 New Delhi: The director of AIIMS has been asked by a special court to get INLD leader Ajay Chautala, facing trial in a disproportionate case, examined by a team of doctors and file a report on his medical condition.
Taking note of the fact that Ajay, son of former Haryana chief minister Om Prakash Chautala, has been repeatedly seeking exemption from appearance in the court on the ground that he has been admitted at Medanta Hospital in Gurgaon, special CBI judge Sanjay Garg said a second opinion should be taken from the doctors of AIIMS on his medical condition.
A report was called from the private hospital's medical superintendent (MS) regarding his medical condition. The MS in the July 6 report mentioned the medical status which had necessitated his admission in ICU on June 18, the court noted.
"Therefore, a second opinion regarding medical status of accused no. 1 (Ajay Chautala) necessitating his admission in ICU, needs to be taken. Keeping in view the fact that earlier twice he had been examined by the medical board constituted by Director AIIMS on the directions of (Delhi) High Court, now again accused be sent to AIIMS for getting fresh opinion regarding his medical status," the judge said.
"Accordingly, Director AIIMS is directed to get the accused examined from eminent doctors and file report if his admission in the hospital or in ICU is required. If previous opinion and advises given by the Board earlier constituted in AIIMS, have been followed in the treatment of accused no. 1," the court said in its order.
It also directed the MS of AIIMS to file report on the next date of hearing, August 25, and also asked the jail superintendent to produce Ajay before the MS after taking prior appointment.
"Put up for prosecution evidence on August 25 and 26. Sufficient number of witnesses be summoned. Fresh production warrant of accused no. 1 be issued for the next date. Copy of this order be sent to Superintendent Jail and MS AIIMS for necessary compliance," the court said.
It passed the order noting that Ajay has not appeared before it in the case from past several dates and every time he sought exemption on the ground that he was admitted in Medanta Hospital.
The special prosecutor had also objected to Ajay's exemption from appearance before the court.
The court was hearing a disproportionate assets case against Ajay. Two other similar cases are pending before it against his brother Abhay and their father and INLD chief O P Chautala.
The cases were filed on a complaint by Haryana Congress leader Shamsher Singh Surjewala.
Ajay is at present serving 10 years imprisonment awarded in January 2013, by another CBI court in the 1999-2000 junior teacher recruitment scam.
O P Chautala was also sentenced to 10 years imprisonment in the same case. Recently the Supreme Court had dismissed the appeals of O P Chautala and Ajay and upheld their 10 years jail term in the case.
Ajay is accused of possessing assets exceeding his legal income by 339.27 per cent. His legal income between May 1993 and May 2006 was Rs 8.17 crore. However, he acquired assets worth Rs 27.7 crore, CBI alleged.
The probe agency also accused O P Chautala of possessing 189 per cent more assets than his legal income between 1993-2006 while Abhay was accused of owning assets worth over five times his income during 2000-2005.