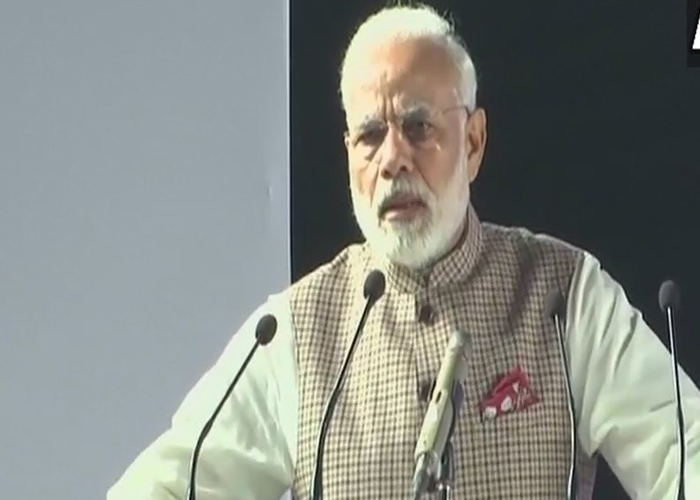 Addressing the 5th Global Conference on Cyber Space in New Delhi, PM Narendra Modi on Thursday said that better targeting of subsidies through use of Aadhaar helped the government save $10 billion.
"Digital technology has emerged as a great enabler, it paves way for efficient service delivery and governance, said PM Narendra Modi at the 5th Global Conference on Cyber Space.
The prime minister said the nation should ensure that digital space does not become a playground of dark forces. "Cyber attacks are significant threat to the global community. We need to ensure that the vulnerable section of the society does not fall prey to it," Modi said.
Saying that internet has provided 'ease of living' to Indians, Modi added: "Empowerment through digital access is an objective that the Indian government is focused on." "We believe in mobile power or M-power to empower our citizens," he added.
The prime minister said financial inclusion through Jan Dhan Yojna, unique identification through Aadhaar and mobile phones have helped to reduce corruption and bring in transparency in the country.
Regarding India's IT talent pool, Modi said: "Indian IT talent has been recognised worldwide. Indian IT companies have made name for themselves. Women form significant part of IT workforce and the IT sector contributed to gender empowerment."
He also added that technology breaks barriers and silos.
Incepted in 2011 in London, the second GCCS was held in 2012 in Budapest with focus on relationship between internet rights and internet security, which was attended by 700 delegates from nearly 60 countries. The third edition of GCCS was held in 2013 in Seoul with commitment to Open and Secure Cyberspace. The fourth version GCCS 2015 was held in 2015 in The Hague, Netherlands which saw participation from 97 countries.
Earlier, the government said the GCCS 2017 is going to be four times bigger than its previous edition in terms of its magnitude. The last conference held in The Netherlands saw about 1,800 delegates, and this year over 10,000 delegates participated in person. There is also be virtual participation from over 2,800 locations across the world.
Meanwhile, Sri Lankan Prime Minister Ranil Wickremesinghe, who is in New Deslhi, also participated in the conference on cyber space.
3 factors, first financial inclusion through Jan Dhan Bank accounts, second Aadhar platform & third the mobile phone, have greatly helped reduce corruption & bring transparency: PM Modi pic.twitter.com/jzoch1q6ni

— ANI (@ANI) November 23, 2017
Sri Lankan PM Wickremesinghe to hold talks with PM Modi on wide range of issues today
Sri Lankan Prime Minister Ranil Wickremesinghe, who is on a four-day visit to India to attend the 5th Global Conference on Cyber Space, will on Thursday hold extensive talks with his Indian counterpart Narendra Modi.
In their talks, PM Modi and the Sri Lankan prime minister are expected to deliberate on a range of issues including ways to boost trade and security cooperation.
The Sri Lankan prime minister, who arrived in New Delhi on Wednesday from Bengaluru which was his first destination, was received at the airport by Indian High Commissioner to Sri Lanka Taranjit Singh Sandhu.
The meeting comes few months after PM Modi visited Sri Lanka during which he attended the biggest Buddhist festival 'Vesak Day' as its chief guest.
WATCH VIDEO | PM Narendra Modi inaugurates the 5th Global Conference on Cyberspace in Delhi