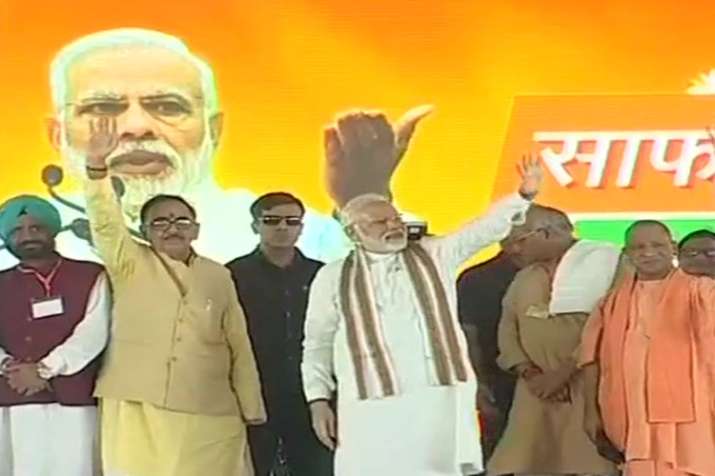 Prime Minister Narendra Modi was in Uttar Pradesh's Shahjahanpur on Saturday to address a farmers' rally. After devoting a couple minutes talking about the initiatives the BJP government has taken for the agriculture sector, PM Modi shifted gears to launch a blistering attack on the Congress and its president Rahul Gandhi. 
Referring to Rahul Gandhi's 'hugging' antics in Lok Sabha during no-trust motion debate on Friday, PM Modi said the Congress leader's act showed how desperate he was for the PM's chair. "He can see nothing but PM's chair," the PM said.
PM Modi's Shahjahanpur rally: Highlights 
"Kal sansad mein hum unse poochte rahe ki batao to sahi ki ye avishwaas ka kaaran kya hai? Ab kaaran nahi bata paaye to gale padd gaye (Yesterday, we kept asking him about the reasons for bringing  the no-confidence motion against the government. They had no answer)," PM Modi said. 
He said that the no-confidence motion was planned because his government stifled the flow of money and plugged loopholes from where the parties had been filling their coffers for all these years.
Taking a dig at the Congress's attempt to stitch in a grand alliance to challenge the BJP-led NDA in 2019, PM Modi used Hindi expression to explain the 'lotus' always blooms in mud. "Jitne dal milengey...daldal ho jaega aur kamal hamesha daldal mein hi khilta hai," PM Modi said. 
"Have I done anything wrong. I am only working for the poor and the country...fighting corruption and this is my crime," he said at the rally.
Accusing previous governments of not having the will to help farmers, Modi listed the key decisions taken by his government for welfare of farmers and criticised the parties who ruled in the past for lacking pro-farmer intentions. 
He also said that for the first time the government has decided to allow mills to produce ethanol from molasses  and sugarcane juice from December 1. 
After reaching out to voters in Azamgarh, Mirzapur and Varanasi last week, Modi addressed the rally in Shahjahanpur, the biggest wholesale grain market and also a prominent cane growing district in Uttar Pradesh which sends 80 MPs to the Lok Sabha. 
WATCH: PM Modi's blistering attack on Rahul Gandhi at Shahjanahpur rally