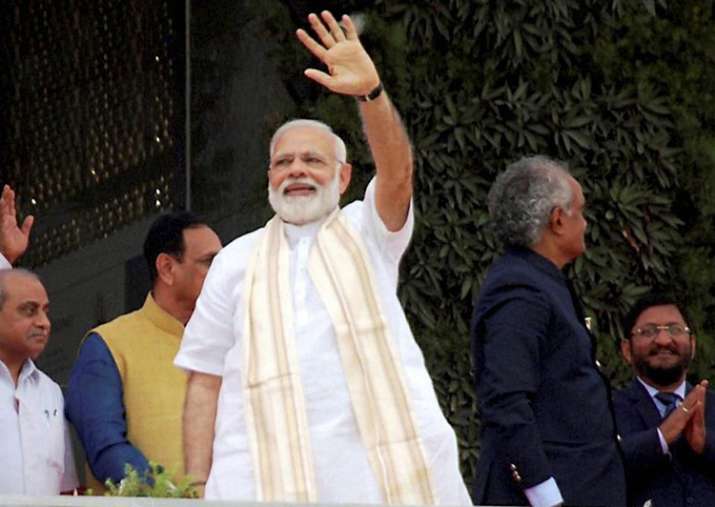 On a two-day visit to Gujarat, Prime Minister Narendra Modi on Monday hailed Sardar Vallabhbhai Patel for redrawing the Indian map after independence "to give us what it (country) is today".
"If we live in India with pride and our heads held high, it is because of him," Modi said after inaugurating a diamond unit in Surat. 
The Prime Minister, who arrived here on Sunday evening, also saluted former Prime Minister Morarji Desai for strengthening the country's economy.
Desai, Modi said, would rejoice to see how the Indian economy was faring now.
"Years ago, this region gave us Morarji Desai, who focused his energies in strengthening the Indian economy. His soul must be celebrating today at the state of the economy," Modi said. 
Morarji Desai, who headed the Janata Party government in 1977-79, hailed from south Gujarat.
Referring to the diamond unit he opened, Modi said the country was a leader in diamond polishing industry and it had the potential to be the numero uno in the gems and jewellery sector.
"Enough of just diamond cutting and polishing work. The country has expectations from Surat. Should the country have it or not?" Modi asked after inaugurating a diamond cutting unit of a gems and jewellery firm here. 
He said the jewellery designed in the country needs to be promoted across the globe. 
"We have become a diamond in diamond cutting. But now we have to be number one in gems and jewellery, and not only 'made in India' jewellery, but 'designed in India' jewellery needs to popularised across the world," Modi said.