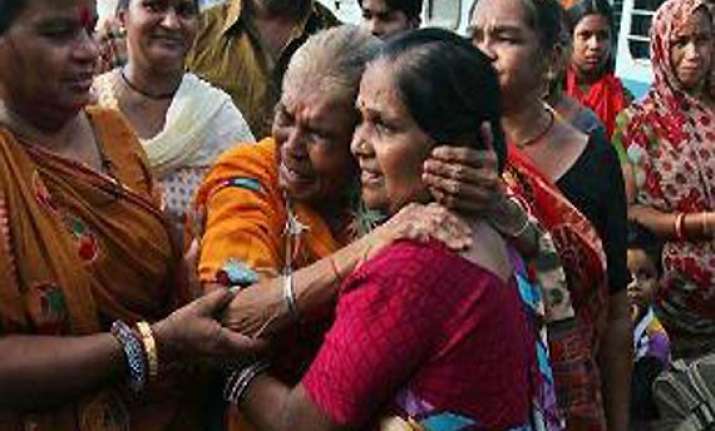 Guptkashi, June 23: Desperate for an assurance about well being of their dear ones, an anxious family from Delhi's RK Puram is circulating pictures among the survivors at a relief camp here in hope of a word of consolation. 
Surendra Rawat had reached Kedarnath on June 15 with his wife Soni, two teenage daughters and 8-year-old son.  
The last time their kin had contacted the family, they were told by Rawat that it was raining heavily in Kedarnath.
"Next day, when we heard about the cloudburst, we tried to contact them, but failed. There is no news of them yet," said a family member over telephone.
People from the Rawats' native place have fanned out in the Kedarnath area in search of the family.  
"We have done everything we could to find them, but we are yet to meet with any luck," their relative said.  
Rawat's family is among the number of such families belonging to Delhi who have been hit by the nature's fury in Uttarakhand.
Sapna Goyal from Shastri Nagar, however, is luckier. She had come to Kedarnath as part of a group of six, all from Delhi.
While five of them are already at the intermediate college-turned-relief camp here after being rescued, the other member is also safe and sound in Son Prayag, Sapna said.  
"I can't tell you what we had to go through between last Saturday and today. Ask me how we managed to reach here. I have seen 4,000-5,000 people perish in front of my eyes," she said.
Seeing it raining in Kedarnath, they had left the place on Sunday morning itself. Some of them had decided to walk back.
They crossed the Rambada and reached Jangal Chatti that day itself, but could progress no further.
"A little ahead of Jangal Chatti, water was beating the slopes in thick cascades. There was no way we could have crossed that. So we decided to wait at Jangal Chatti," said Sonia Rawat, from Mangolpuri.
"There was a dispensary there which was a hut. We took shelter outside in a shed. That small spot was crammed with people," Sonia added.
Starting from Jangal Chatti on Wednesday, they reached Son Prayag on Friday, in between stopping at Chirbattiya.  There they were provided food, shelter and medication by Army personnel.
"There was a holy man, also a pilgrim, whom we begged to take us across the stream flowing the slopes. He used a long staff to help us out. He would hold one end of the stick and extend the other end to us. One by one he pulled us across," Sonia said, recalling  that 'waterfall' was the toughest part.  
"Having crossed that it was a slow but sure walk back to safety. Looking back, our decision to leave Kedarnath on 17th (of June) itself made all the difference between life and death," a nervous Sonia said.
"We had to wait four days with no water or food, but at least we are safe," she said.
Trying to cross the cascading stream with the sadhu's help, Sonia said she saw some five or six bodies down below.  
"There were umbrellas strewn all around. Caught in some boulders were dangling lifeless hands and legs. I still shudder to think of it," Sonia said.