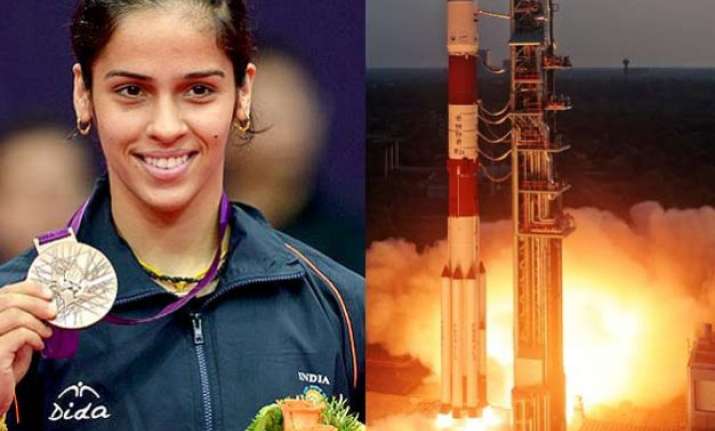 1. Kejriwal has got dictatorial tendencies, bouncers were present at NC meet: Yadav & Bhushan
Reacting to their expulsion from National Executive of Aam Aadmi Party (AAP), senior leaders Yogendra Yadav and Prashant Bhushan today said that Delhi Chief Minister and party national convener Arvind Kejriwal has got dictatorial tendencies and that he does not want to listen to any voice of dissent.
Alleging that professional bouncers were present at the NC meet, Prashant and Yadav said that all options were open to challenge the NC proceedings in the courts as whatever happened at the NC meet was totally unconstitutional.
2. Saina Nehwal becomes first Indian to be World's top Shuttler
Saina Nehwal created history today as she became the first Indian woman shuttler to attain the world number one ranking after her closest challenger for the spot, Spain's Carolina Marin, lost in the India Open Super Series semifinal here.
Though the official rankings will be out only on Thursday next week, the 25-year-old Indian has been assured of her ascent to the top owing to Marin's loss in the last-four stage.
3. India successfully launches 4th navigation satellite IRNSS-1D
India successfully put into orbit its fourth navigation satellite with its own rocket on Saturday evening in copybook style.
Exactly at 5.19 p.m., the rocket - Polar Satellite Launch Vehicle - (PSLV-C27) standing about 44 metres tall and weighing around 320 tonnes, roared into the bright blue clear evening sky trailing an orange plume.
The expendable rocket had a single but important piece of luggage: the 1,425 kg IRNSS-1D.
4. Spiritual guru Sri Sri Ravi Shankar receives death threats from ISIS
Spiritual leader Sri Sri Ravi Shankar has reportedly received threats from dreaded militant group Islamic State (ISIS). The group in a letter has threatened to kill him if he carries on with his programe in Malaysia.
The group in a series of letters has said that Ravi Shankar was involved in religious conversion under the pretext of doing social service.
According to reports, Ravi Shankar got threat letters during his visit to Malaysia, which was sent to him through a courier.
5. Playing smart: McCullum urges Indian fans to support the Kiwis in grand finale
Brendon McCullum, ahead of the big final of the World Cup, has asked all the Indian Cricket fans to support New Zealand team in thier clash against the trans-Tasmanian neighbour Australia on Sunday.. McCullum wrote a letter in which he has sought the support of the Indian fans.
McCullum writes, "I know you understand the hunger for a World Cup. And I have already seen a wave of support from you guys towards us."