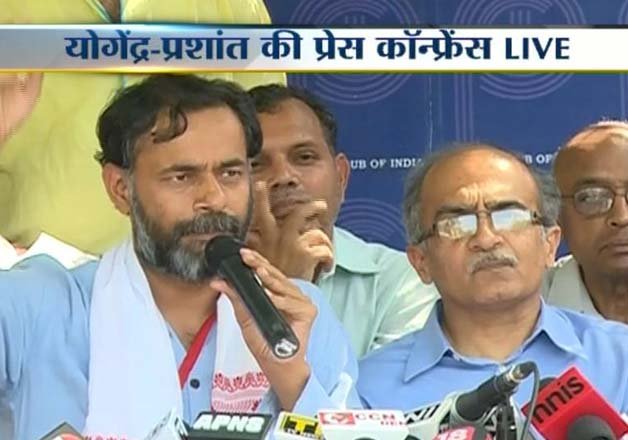 New Delhi: Reacting to their expulsion from National Executive of Aam Aadmi Party (AAP), senior leaders Yogendra Yadav and Prashant Bhushan today said that Delhi Chief Minister and party national convener Arvind Kejriwal has got dictatorial tendencies and that he does not want to listen to any voice of dissent.
Alleging that professional bouncers were present at the NC meet, Prashant and Yadav said that all options were open to challenge the NC proceedings in the courts as whatever happened at the NC meet was totally unconstitutional. 
They revealed that Kejriwal had threatened to quit from all party posts if the National Council members voted in favour of us. 
ALSO READ: Exit of Bhushan, Yadav was scripted before the national executive meeting
The duo said that there was also no identification of voting and non-voting members during today's National Council meeting.
Yadav reiterated that NC members were beaten up during meeting. He said, "I went to Arvind ji and Manish ji and told them that  NC members are being beaten. Arvind ji just stood there. Two bouncers came, dragged Ramzan Chaudhary out and started beating him."
Yadav pointed out that he had requested enough time for discussion before voting but it went unheard.
 "I said at least give time for discussion. But his requested was overlooked," said Yadav. 
According to yadav, the two leaders were stopped from Kejriwal-camp supporters even from coming out. Before this, the two founding members were stopped from entering the venue of the meeting in morning. 
"This has happened in a party that had come into the country with the slogan of 'swaraj'," Yadav said.
Yadav, however, added that it would be wrong to judge the party according to today's 'drama'.
"Please do not judge the party according to the drama that happened today. I am surprised why they even said that 8 votes were in our favor; they could have termed it 'minus 8'," Yadav said. 
Prashant Bhushan said that he asked to ensure that the meeting be videographed and voting to take place through a secret ballot.
On Admiral Ramdas (AAP Lokpal), he said that the party told him that 'your term has expired'.
"... this is that he has dictatorial tendencies & he must curb them," Bhushan said. 
"It is true that the meeting was unconstitutional and unlawful, now what we will do to challenge it, is yet to be decided," Bhushan added.
Aam Aadmi Party (AAP) member of Parliament (MP) Dharamveer Gandhi, who was also present with Bhushan and Yadav at the Press Club of India, said, "I have 40 years of experience behind me, I know what democracy is, I know the values."