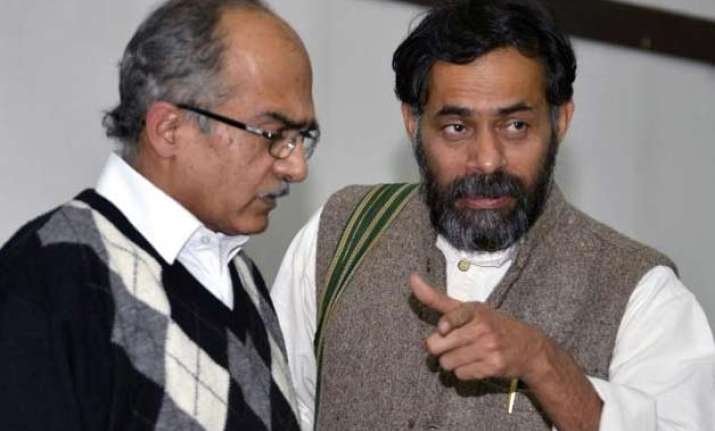 New Delhi: The Aam Aadm Party (AAP) today removed senior party leaders Prashant Bhushan and Yogendra Yadav from its National Executive. The decision was taken at the crucial National Council meeting held today afternoon at a resort in Kapashera in capital. 
Coming out of the meeting Yadav said that it is 'death of internal democratic in the party'. 
"Bouncers were present in the meeting. They misbehaved with national council member Ramzan Chaudhary. Everything was scripted," he alleged. 
"Some of were prevented to even come out, this is what is happening here, I'm ashamed, I apologize to all volunteers & supporters," Yadav further said.
"There was bogus voting in the meeting. Many of the National Council members who supported us were injured," Yadav added. 
A visibly upset Prashant Bhushan said that party's Lokpal Admiral Ramadas was not allowed to attend the meeting.
"There was no neutral factor, Lokpal was absent, our voices were suppressed, we didn't get a chance to answer," he said. 
Ajith Jha and Professor Anand Kumar were also axed from the party's top body. 
After making an emotional speech, party Chief Arvind Kejriwal left the venue before the resolution to remove the two leaders was introduced.
Reports say out of the 300 National Council members (total 350) present at the meeting, 200 moved a resolution seeking removal of Bhushan and Yadav from the National Executive.
Kejriwal loyalist Sanjay Singh, however, accused Yadav and Bhushan of 'spreading lies' that NC members were beaten up in meeting.
"The reports of scuffle during AAP NC meeting are completely baseless and untrue," he said. 
"National Council has taken an unanimous decision, 247 people have signed that resolution. Nobody can be allowed to force their own decision on decision taken by National Council unanimously," he added. 
eanwhile, senior party leader Gopal Rai was elevated to the president post of the party.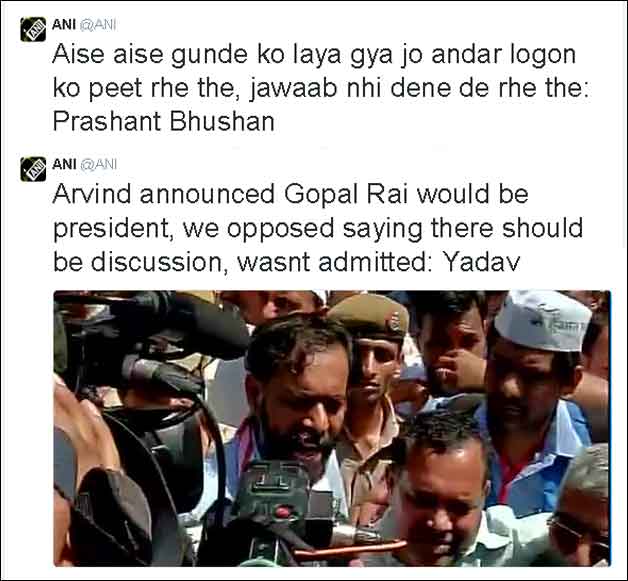 The duo had branded Kejriwal an autocrat surrounded by 'yes men' and accused him of deviating from the party's ideals.