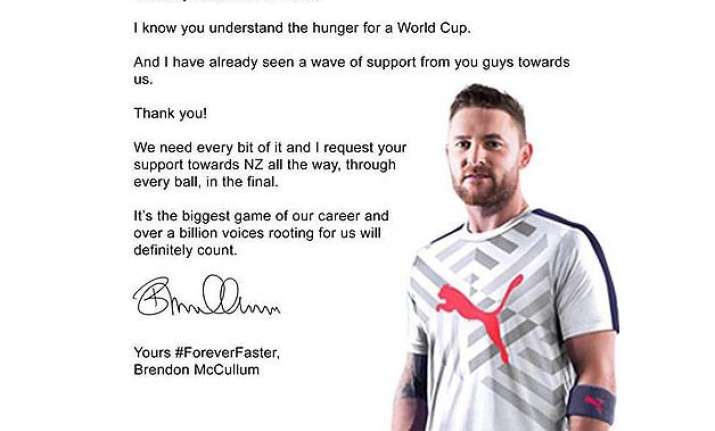 New Delhi: Brendon McCullum, ahead of the big final of the World Cup, has asked all the Indian Cricket fans to support New Zealand team in thier clash against the trans-Tasmanian neighbour Australia on Sunday.. McCullum wrote a letter in which he has sought the support of the Indian fans
McCullum writes, "I know you understand the hunger for a World Cup. And I have already seen a wave of support from you guys towards us."
He thanked the Indian fans for their support saying, "We need every bit of it and I request your support towards NZ all the way, through every ball in the final."
"It's the biggest game of our career and over a billion voices rooting for us will definitely count," concluded McCullum.
Unbeaten in the tournament so far, New Zealand would be playing outside home for the first time in the mega-event's current edition.
It is expected that Indian cricket fans will support the Black Caps who, for the first time, have reached the final of the quadrennial event.
When asked at the pre-match press conference on Saturday about Indian fans travelling for the final, McCullum said, "I'm pleased you touched on that because I reckon we might have the home crowd tomorrow actually.
Australia has recorded a steep rise in its Asia-born population which almost doubled in the past decade from 1.03 million to2.01 million, with the number of India-born residents more than trebling to 340,000.
 
According to reports, many Indians had already purchased tickets for the final, hoping it would turn out be an India-New Zealand encounter.
However, Australia beat India in the semifinal on Thursday at the Sydney Cricket Ground (SCG) to enter the final. It is expected that the Indian fans will support the Kiwi team after Dhoni's boyslost to Australia in the second semi-final.