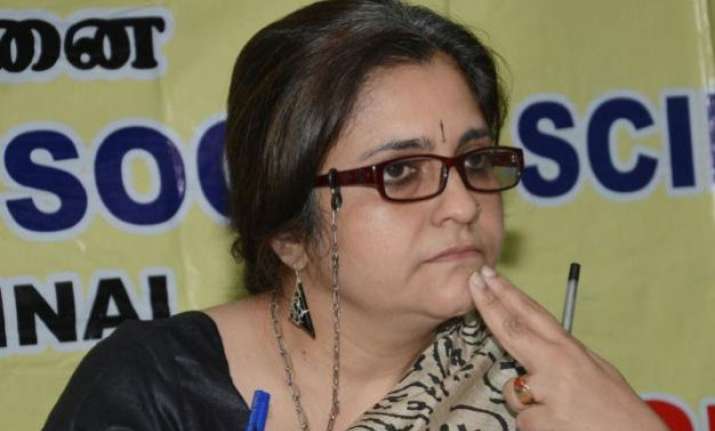 New Delhi: After a special CBI court rejected anticipatory bail plea of human rights activist Teesta Setalvad and her husband Javed Anand, Bombay High Court today gave them some relief and extended her interim bail for two more weeks.
Teesta had moved to HC after the CBI court refused to grant him anticipatory bail in a case against her firm for allegedly receiving around US $2.9 lakh in foreign donations in violation of Foreign Contribution Regulation Act (FCRA).
New Delhi: Intensifying the war of words with the Delhi Chief Minister Arvind Kejriwal, Lieutenant Governor Najeeb Jung today wrote a scathing letter to the CM criticising the language he had used in his letter yesterday.
Commenting on Kejriwal's reference to the Prime Minister Narendra Modi, Jung said, "I must say that the tone of your letter leaves me deeply disappointed.  Such inappropriate references vis-a-vis the Prime Minister do not reflect well on the Chief Minister of a Union Territory."
New Delhi: Concerned over flow of black money into stock market, the Supreme Court-appointed SIT today asked regulator Sebi to compulsorily identify real owners of foreign funds coming through the controversial P-Note route and also prosecute those using equities for tax evasion.
In its third report on steps required to check the black money menace, the Special Investigation Team (SIT) said it is not enough for Sebi to ban individuals and companies from stock markets and the regulator needs to initiate prosecution proceedings and take all necessary "preventive and punitive" actions.
New Delhi: Union Minister Nitin Gadkari today slammed Congress vice-president Rahul Gandhi for calling External Affairs Minister Sushma Swaraj 'criminal' and threatened to file a criminal defamation suit against him if he did not apologise.
He said that Sushma Swaraj is a prominent leader of the country and Rahul has not only defamed here but also the country's Foreign Minister of the country, who represents India outside the country.
London: The European Medicines Agency has recommended approving what would be the world's first licensed malaria vaccine, even though it's only about 30 percent effective and its protection fades over time.
In a statement Friday, the agency endorsed the vaccine's use outside Europe, a regulatory process that helps speed new medicines to the market.