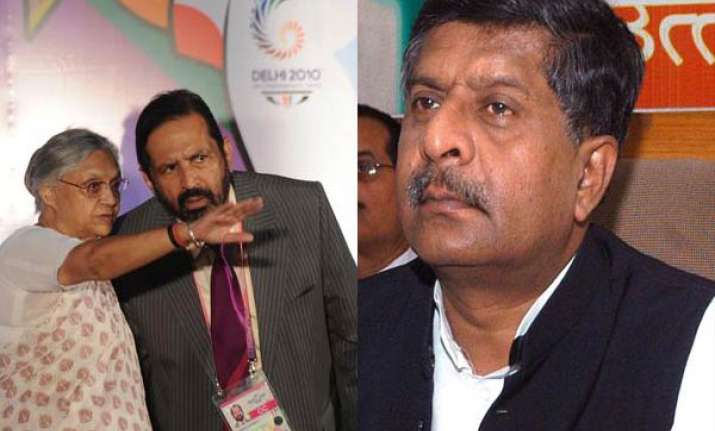 New Delhi, Aug 8: The opposition BJP on Monday fired on all cylinders in both houses of Parliament demanding the resignation of Delhi chief minister Sheila Dikshit in the light of CAG report which has pointed out grave irregularities in the Commonwealth Games. 

BJP members marched into the well of both Lok Sabha and Rajya Sabha and stalled both Question Hour and the subsequent proceedings forcing the presiding officers to adjourn the houses till Tuesday.

'Sheila Dikshit must be sacked if she doesn't resign', said BJP spokesperson Ravi Shankar Prasad. 'This is the minimum, if the Congress party believes in what Sonia Gandhi and Manmohan Singh said about probity on the completion of two years of UPA-II rule'.

'Kalmadi', Prasad said, 'had repeatedly said that whatever he did during the Commonwealth Games was with the approval of the higherups in the government. It was not Commonwealth Games, it was Congresswealth Games'.

'If Yeddyurappa had not resigned in the wake of Lokayukta report, these very Treasury benches would not have allowed the House to function for 15 to 20 days. That's their stand, and this is our stand', said Ravi Shankar Prasad in a hard-hitting remark.

On the CAG report, the BJP leader said, whatever the CAG has reported is confirmed by the inquiry committee headed by V K Shunglu, a former CAG himself and appointed by the PMO.

'Now they have referred Shunglu's report to a GOM(group of ministers), then there will be a sub-committee, and then go to the PAC, where the Congress members won't allow the PAC chairman to work.

'The bottomline is that the Congress will not allow its leaders to be investigated either by the police, or the CBI or even Parliament. Sheila Dikshit's place should be with the likes of Kalmadi and A Raja', said Prasad.

On the other hand, Union Sports Minister Ajay Maken said the very people who elected Suresh Kalmadi as the chairman of the Organising Committee of CWG, consisted of people like BJP leader V K Malhotra, INLD leader Abhay Chautala, Akali leder Sukhdev Singh Dhindsa and Tarlochan Singh. All of them belong to different political parties who are now demanding action, said Maken.

Former Sports Minister and a self-confessed gadfly in Congress party, Mani Shankar Aiyar today toned down and said that the CAG report on Commonwealth Games should first be taken up by the Public Accounts Committee before further action is taken. It was during Aiyar's tenure as Sports Minister, that his ministry had objected to the appointment of Kalmadi as OC chief, but the PMO overruled it.