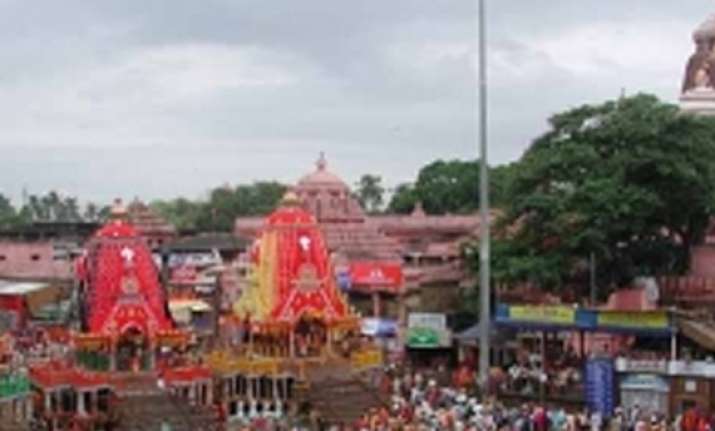 Kolkata, Jun 21: The Rath Yatra of Lord Jagannath was celebrated with gaiety and fervour today in the city.
International Society for Krishna Consciousness
(Iskcon) organised its 41st Kolkata Rath Yatra with the theme of 'Hare Krishna movement in Russia.'
"The theme was selected to highlight the Russian Vaishnava movement and their glorious struggle for Krishna Bhakti," Iskcon's general manager Radharaman Das said.
The procession with the idols of Lord Jagannath,
Lord Balabhadra and Subhadra Devi began in the morning from Park Circus Maidan with Russian devotees leading the kirtans in front of the three chariots.
It was inaugurated by Chief Minister Mamata Banerjee.  "My prayer to the Lord is to seek blessings to usher in peace, prosperity, happiness and awaken the conscience in this beautiful world," she said.
The festival venue of Brigade Parade Ground has been decorated with replicas of Russian landmarks and the main gate of the grounds has the Saint Basil's Church of Moscow.  For the next nine days till the return car festival on June 29, cultural troupes from Moscow will perform at the venue.
Besides regular kirtan programmes, a youth festival with music performances, Russian drama and debates would also be held, Iskcon sources said.
Meanwhile, over 1.5 lakh devotees were served
'Mahabhoj' (holy food) at pols (cluster of homes) in Saraspur locality here as a part of the Lord Jagannath's rathyatra today.
The procession with idols of Lord Jagannath, Lord Balabhadra and Devi Subhadra began in the morning and passed through Jamalpur, Khamasa and Kalupur areas as it reached Saraspur (the house of maternal uncle of Lord Jagannath). 
They were served a number of delicacies and sweets by the organisers at pols. Over 5,000 volunteers offered services to make the ceremony a grand sucess, informed the locals.  "The preparations for this grand day were being done since last one month or so," volunteers for kitchens at various pols informed.
Around a dozen pols (cluster of homes) in Saraspur had established kitchens and made elaborate arrangements to serve the holy food to around 1.5 lakh devotees, organiser at one of the pols informed.
Another pol near the temple Luhaar Sehri had made arrangements to serve prasad amongst 70,000 devotees. The organisers had prepared over 1,000 kgs of Mohan thaal (sweet), poori and batata nu saag (potato vegetable), a pol resident informed.
As per tradition, 'Mamera' (a gift from maternal uncle) is given to Lord Jagannath on his arrival in Saraspur, a custom where a person is selected to offer gifts to the Lord.
"This year the 'Mamera' is of nearly Rs 3.50 lakh," a temple staff informed.